Mitotic Index Assay Kit (Fluorescent)
accurately determine the proportion of cells undergoing mitosis in a population
The Mitotic Index Assay Kit offers you a simple, accurate method to determine the percentage of cells undergoing mitosis within a specified population. Because mitosis is the most defining stage of cell division, the ability to detect cells undergoing mitosis is a valuable way to characterize the effects of test compounds on cellular progression.
Two significant mitotic events include microtubule spindle formation and chromosome condensation. Histone H3 is phosphorylated on serine 28 during mitotic chromatin condensation before nuclear division occurs, which makes phosphorylation of histone H3 (Ser 28) a reliable marker for cells undergoing mitosis. The Mitotic Index Assay Kit relies on a highly specific phosphorylated histone H3 (Ser 28) (clone HTA28) antibody, which is detected by a fluorescent Chromeo™ 488-labeled rat secondary antibody. Cell number is measured by the propidium iodide included in the kit. Paclitaxel is also included as a control to produce a mitotic index reference population. (If you do not wish to use fluorescence, Active Motif also offers 2 other Mitotic Assay Kits that offer colorimetric and chemiluminescent detection.)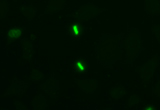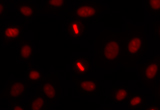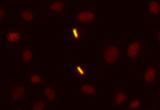 Figure 1. Fluorescent images of HeLa cells fixed with methanol and assayed with the Mitotic Index Assay Kit.
Features
Bright Chromeo 488 detection
Highly specific monoclonal phospho-Histone H3 (ser28) clone HTA28
Advantages
High-throughput compatible method, easily adaptable to any plate format
Simple analysis with no cell lysis steps
Contents and Storage
5 x 96 rxns each of Chromeo™ 488 Goat anti-Rat IgG, anti-phospho Histone H3 (Ser28), propidium iodide, paclitaxel and RNase A. Reagents are to be stored at -20°C. All reagents are guaranteed stable for 6 months from date of receipt when stored properly.