ChIP-IT® Express Chromatin Immunoprecipitation Kits
magnetic beads make ChIP fast, easy & more reproducible
ChIP-IT® Express Kits use protein G-coated magnetic beads instead of traditional agarose beads, making it possible to perform ChIP in just 1 day. Kits that use either sonication or enzymatic digestion for preparing sheared chromatin are available. Both feature fast, reproducible protocols that make ChIP more successful while reducing your time and effort. See the Description and Overview tabs below for more information.
Active Motif also offers kits for performing specialized types of ChIP, and a variety of ChIP accessory products:
In addition, our Epigenetic Services can perform ChIP, ChIP-Seq and many other genome-wide data generation and analysis services for you.
ChIP-IT Express improves ChIP
ChIP-IT Express improves on traditional ChIP by reducing or eliminating several time-consuming steps. Because the supplied magnetic beads have much lower background than traditional agarose beads, pre-clearing and blocking steps are no longer necessary. Washing is easier because the spin steps have been replaced by rapid magnetic pull-down. And, only 3 washes are required, as compared to 8 washes with traditional ChIP protocols. This dramatically reduces the amount of hands-on time during the assay. This not only saves time, but reducing the number of times the sample is manipulated minimizes DNA losses that can occur during wash steps, which helps improve yield as well as sample-to-sample consistency.
Optimized buffers reduce background
While the magnetic beads and bar magnet included in ChIP-IT Express make ChIP much faster and easier, the kit's buffers have been optimized to provide you with better ChIP results. The Elution and Reverse Cross-linking Buffers help reduce the background, which enables you to discern effects that are smaller in magnitude. Reduced background also makes it possible to work with fewer cells (see Figure 2 in the Overview tab). In addition, these buffers were formulated to work together, so you can now elute the DNA from the beads while simultaneously reversing the cross-links.
These simple improvements give you results quickly and easily while making it possible to perform many ChIP assays at the same time. With ChIP-IT Express you can perform multiple ChIPs in PCR tubes with a multi-channel pipettor (Figures 1 & 2). The method has even made it possible for us to develop ChIP-IT Express HT, a high-throughput ChIP kit that can process up to 96 samples together in a 96-well plate.


Figures 1 & 2: Multiple-sample ChIP using ChIP-IT Express.
Powerful magnet
ChIP-IT Express Kits include a strong bar magnet that can be used to turn pipette tip boxes into magnetic stands for immunoprecipitation and washing. P1000 tip boxes can be used with Eppendorf tubes (Figure 3), while P200 boxes work with PCR strips (Figures 1 & 2). Commercially available magnetic tube stands, such as those from Ambion (Figure 4) and Promega, can also be used.

Figure 3: Use of a standard tip box for magnetic ChIP.

Figure 4: Use of an Ambion 6-tube Magnetic Stand with ChIP-IT Express.
Choose from sonication or reproducible enzymatic shearing
The first step in successful ChIP is shearing the chromatin into 200-1000 bp fragments. This is most commonly achieved by performing sonication with equipment like Active Motif's EpiShear™ Sonicators. However, sonication can be difficult to optimize due to complications that can be caused by emulsification and overheating. Because of this, or if you don't have a sonicator, Active Motif has developed a robust, user-friendly method to shear chromatin by enzymatic digestion. Because Active Motif offers both ChIP-IT Express and ChIP-IT Express Enzymatic Kits, you can choose whichever shearing method you prefer. For more complete information on these shearing methods, please click here to learn more about your options.
ChIP Accessory Products and ChIP & ChIP-Seq validated antibodies
To simplify the task of troubleshooting your experiment, interpreting your results and validating antibodies for use in ChIP, Active Motif offers species-specific (human, mouse and rat) ChIP-IT Control qPCR Kits that contain a positive control antibody, a bridging antibody to enhance binding affinity of mouse monoclonal antibodies, a negative control antibody to evaluate non-specific binding, and species-specific positive and negative control qPCR primers for use in real-time or endpoint PCR. We also offer over 35 ChIP Control qPCR Primer Sets for many common ChIP targets in human, mouse, rat, Zebrafish, Drosophila and yeast, as well as Ready-to-ChIP Chromatin from a number of ENCODE cell lines that have been optimally sheared by sonication and ChIP-validated. Finally, Active Motif offers an ever-increasing number of ChIP-validated and ChIP-Seq validated antibodies, which are ideal for use with all of our ChIP-IT Kits and ChIP Accessory Products.
Chromatin immunoprecipitation (ChIP) involves the immunoprecipitation of protein/DNA complexes that have been stabilized via cross-linking. It offers a versatile solution by combining the specificity of immunoprecipitation, the sensitivity of PCR and the screening power of array profiling. However, ChIP can be technically challenging and difficult to validate without well-proven reagents. By providing proven antibodies, reagents and controls, ChIP-IT Kits guarantee the best results possible.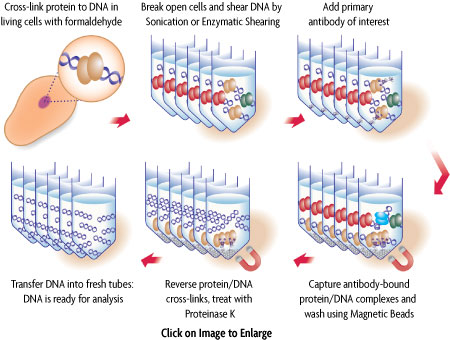 Figure 1: Schematic of chromatin immunoprecipitation using ChIP-IT Express.
In ChIP, intact cells are fixed using formaldehyde, which cross-links and therefore preserves protein/DNA interactions. DNA is then sheared into small uniform fragments and the DNA/protein complexes are immunoprecipitated using an antibody directed against the DNA-binding protein of interest. Following immunoprecipitation, the DNA is washed, cross-linking is reversed, and the proteins are removed by Proteinase K treatment. In the original ChIP-IT Kits, the DNA is then rapidly cleaned up using the included DNA purification columns. This DNA purification step in not necessary with ChIP-IT Express (Figure 1). The DNA is then screened to determine which genes were bound by the protein of interest.
Why use ChIP-IT® Kits?
Complete solution – all critical reagents needed are supplied
Direct measurement of protein/DNA interactions, not just histone modifications
Compatible with genome-wide profiling or selective PCR-based approaches
No need to optimize reagents and protocol
No phenol/chloroform extractions – DNA purification columns included in original ChIP-IT Kits, DNA purification step eliminated in ChIP-IT Express
Classically, ChIP has been performed with antibodies directed against abundant chromatin components, such as acetylated histones. While this yields information about transcriptional activity of promoters, it does not reveal which transcription factor is bound to the promoter(s) of interest. In contrast, ChIP using transcription factor-specific antibodies enables direct monitoring of transcription factor/DNA interactions. Unfortunately, this is technically more challenging than classical ChIP, and requires the preparation of several complicated buffers, inhibitor cocktails and blocking reagents. In addition, result validation is difficult without antibodies, controls and a protocol proven to work in ChIP. To overcome these problems and enable ChIP of both transcription factors and histones, Active Motif's ChIP-IT Kits offer a complete solution by providing nearly everything needed to successfully perform ChIP experiments, including positive and negative controls (Figure 2).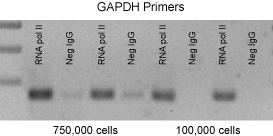 Figure 2: Improved chromatin immunoprecipitation using ChIP-IT Express.
Flexible ordering options
The ChIP-IT Express and ChIP-IT Express Enzymatic Kits include Protein G Magnetic Beads and the shearing components found in the ChIP-IT Shearing or Enzymatic Shearing Kits, respectively. However, depending on how many ChIPs you perform with each sample of sheared chromatin, you may run out of shearing components before using up all of the immunoprecipitation components in the ChIP-IT Express Kits. For this reason, the ChIP-IT Sonication & Enzymatic Shearing Kits and Protein G Magnetic Beads are also sold separately.
ChIP-IT Express Kits provide sufficient components to perform 25 ChIP reactions. Sufficient shearing components are included to optimize shearing conditions and then make 5 preparations of sheared chromatin from three 15 cm plates (4.5 x 107 cells); each of these chromatin preparations yield enough material to perform approximately 6 ChIP reactions. We recommend that you also purchase whichever ChIP-IT Control Kit is appropriate for your sample type, as using proven controls helps in troubleshooting, interpreting your results and validating antibodies for use in ChIP.
Contents & Storage
Protein G Magnetic Beads, Bar Magnet, Sticky Dots, Shearing Buffer (or Digestion Buffer and Enzymatic Shearing Cocktail), ChIP Buffers 1 and 2, Elution Buffer, Reverse Cross-linking Buffer, Wash and 10X PCR Buffers, 10X PBS, 10X Glycine, 1X Lysis Buffer, Protease Inhibitor Cocktail, PMSF, EDTA, Proteinase K, Proteinase K Stop Solution and RNase A. Reagent storage conditions vary from room temperature to -20°C. Please download a manual for complete kit specifications and storage conditions. All reagents are guaranteed stable for 6 months when stored properly.