RPA DNA Repair Protein ELISA
dna-binding ELISA for Replication Protein A (RPA70/RPA32/RPA14)
Active Motif's DNA Repair Protein ELISAs are DNA-binding ELISAs that detect activity of DNA repair proteins in both mammalian tissue and cell culture extracts. The kits combine a fast, user-friendly format that is more sensitive than gelshift while eliminating the use of radioactivity and providing quantitative results in less than five hours. For more information on how they work, click on the Method tab below.
The RPA DNA Repair Protein ELISA was designed to study regulation of the Replication Protein A, which is composed of RPA70, RPA32 and RPA14. It contains a 96-well plate to which a single-stranded linear DNA molecule has been immobilized. RPA in nuclear extracts binds specifically to this DNA molecule where it is detected and quantitated by addition of either the included RPA32 antibody, followed by HRP-conjugated secondary antibody and developing solution. Click the RPA Info tab below for data and more information.
Replication Protein A (RPA) is composed of RPA70, RPA32 and RPA14 (70, 32 and 14 kDa subunits, respectively). RPA binds directly to single-stranded DNA (ssDNA) where it organizes and protects ssDNA during DNA replication, recombination and repair. The inability to replicate or repair DNA breaks leads to cell cycle arrest and apoptosis.
Applications
RPA is involved in the maintenance of genomic stability and therefore represents an excellent pharmacological target for developing drugs to treat cancer. Applications of the RPA DNA Repair Kit include:
Profiling of RPA32 under various growth and stimulation conditions
Drug screening and/or potency toward RPA
RPA activity regulation
Protein structure/function studies of RPA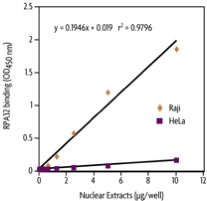 Figure 1: Monitoring RPA32 binding with the RPA DNA Repair Kit.
DNA repair proteins act to maintain genome integrity by recognizing, binding to and repairing damaged DNA. Deficiencies in the activity of these proteins are linked to the development of many pathological diseases, including cancer. Understanding and quantifying DNA repair proteins can help elucidate the molecular mechanisms of DNA damage and repair pathways, and understand the damage specificity of a repair protein.
The DNA Repair Protein ELISA Kit advantage
DNA Repair Protein ELISAs offer an improved method for studying DNA repair protein activity. Current techniques used to study DNA damage and repair include EMSAs and Western blots, which are time consuming, do not allow for high-throughput and provide only semi-quantitative results. In contrast, Active Motif's DNA Repair Kits are DNA-binding ELISAs that eliminate radioactivity and provide quantitative results in less than five hours.
Each kit includes a 96-well plate in which multiple copies of a specific damaged oligonucleotide have been immobilized. When cellular extract is added, the repair protein of interest binds to the damaged DNA. Each well is then incubated with a primary antibody that is specific for the repair protein being studied. Addition of a secondary HRP-conjugated antibody and developing solution provides an easily quantified colorimetric readout (Figure 1). Also included are wild-type (DNA lesion cotaining) and mutated oligonucleotides that can be used in competiton assays to verify the specificity of the signal (optional).
Key features
Non-radioactive, colorimetric method
Quantitative results in less than 5 hours
10X more sensitive than gelshift
High and low-throughput compatible – 96-stripwell format
Ability to assay both cells and tissues

Figure 1: Flow chart of DNA Repair Protein ELISAs.
Contents & Storage
One or five 96-well assay plates with plate sealers, RPA32 primary antibody, HRP-conjugated secondary antibody, competitor oligonucleotide, positive control cell extract, DTT, Protease Inhibitor Cocktail, Lysis, Binding, 10X Washing and 10X Antibody Binding Buffer, and Developing and Stop Solutions. Reagent storage conditions vary from room temperature to -80°C, see manual for details. All reagents are guaranteed stable for 6 months when stored properly.