gripNAs™
revolutionary gene silencing technology
Sequence-specific gripNA™* probes provide researchers with the very latest technology available for gene silencing. This powerful new tool utilizes the high-affinity binding and sequence specificity of engineered peptide nucleic acids (PNAs) to improve gene targeting and reduce non-specific interactions. Active Motif's custom gripNA synthesis service will accelerate your research by providing you with a unique alternative to the more traditional techniques used for gene silencing. Note: because each gripNAs order is a custom synthesis of the sequence you choose, to order you must complete and fax a copy of the gripNA Fax Order Form (Documents tab).
gripNA advantages
Unsurpassed sequence specificity
Resistant to nuclease degradation
Easy delivery with Chariot™ II
Flexible synthesis modifications
Highly soluble
* Covered under U.S. Patent No. 6,962,906. Purchase includes the right to use for basic research only. Other-use licenses available, please contact your local Technical Services dept.
gripNA™ probes are a novel, negatively charged form of Peptide Nucleic Acids (PNAs) that have a number of properties that make them ideal for gene silencing. gripNAs combine high-affinity binding with much greater sequence specificity than that of other gene silencing reagents, such as siRNA and morpholinos.
PNAs are DNA analogs in which the nucleosides are attached to an N-(2-aminoethyl)glycine backbone instead of to deoxyribose, as in DNA. However, while traditional PNA molecules held great promise for gene silencing, poor water solubility and a tendency to self-aggregate limited their utility. Active Motif has overcome these shortcomings by developing negatively charged gripNAs1-3 (Figure 1), which have superior solubility yet retain the PNA characteristics that are ideal for gene silencing.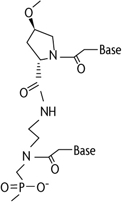 Figure 1: Negatively charged gripNA.
gripNA probes are comprised of a backbone of alternating HypNA and pPNA monomers, with the bases attached through methylene carbonyl linkages.
Effective gene silencing
gripNAs have been shown to be highly effective in gene silencing experiments in both mammalian cells and in zebrafish. To illustrate, PNA and gripNA probes targeted against human cyclin B1 were delivered into HS-68 cells using Chariot II™. (Chariot II is a special formulation of Chariot, Active Motif's novel protein delivery reagent, and is intended for use with gripNAs only. For delivery of proteins, peptides and antibodies, use the original Chariot.) Western blot analysis performed clearly indicates that cyclin B1 was silenced better by gripNAs than by PNAs (Figure 2).

Figure 2: Silencing of cyclin B1 by gripNA & PNA probes.
Increasing concentrations of 18-mer anti-cyclin B1 PNA (A) and gripNA (B) probe were incubated with Chariot II at 37°C for 1 hour, then overlaid onto cultured HS-68 cells that had been synchronized by serum starvation for 40 hr, then released by addition of serum for 4 hr. Expression of Cyclin B1 protein was analyzed by Western blot after 24 hours. CdK2 protein was used to normalize protein levels. Endogenous cyclin B1 in untreated cells in shown in lane 1 of each panel, while lane 2 shows addition of the PNA or gripNA probe alone, without Chariot II. (Data generously provided by Dr. Gilles Divita, Biophysics, CNRS, Montpellier, France4.)
Unsurpassed sequence specificity
A recurring problem of many gene silencing reagents is a lack of specificity. This can cause unintended phenotypes because these reagents may bind and silence more than just the intended target5. Experiments performed in zebrafish embryos by the Steve Farber lab (Thomas Jefferson University) demonstrate how this specificity can improve your results. While wild-type gripNA and morpholino probes were comparable in potency at silencing the chordin, uroD and no tail genes, the intentional inclusion of 2 and 4 base-pair mismatches in the morpholino probes caused non-specific phenotypic effects that were not triggered by comparable, mismatched gripNA probes6.
To demonstrate the high sequence specificity of gripNAs, in vitro mismatch discrimination experiments were performed. gripNA and DNA probes were annealed to a complementary oligonucleotide, as well as to oligonucleotides containing one- or two-base mismatches. After annealing, each duplex's melting temperature (Tm) was determined. Table 1 shows that gripNAs are much more intolerant than DNA to mismatches. The higher Tm values indicate that gripNA/DNA duplexes are destabilized by mismatches much more than the DNA/DNA duplexes (especially when the mismatch is central in the sequence). In addition, the gripNA probe was unable to hybridize to several of the oligos with one mismatch and didn't hybridize to any oligos with two mismatches. This clearly demonstrates gripNA's superior sequence specificity and emphasizes how using gripNA probes can minimize any non-specific gene interaction within the cell. Using gripNAs ensures your gene silencing experiment can be performed with confidence.
DNA/DNA
gripNA/DNA
Tm (°C)
ΔTm (°C)
Tm (°C)
ΔTm (°C)
DNA oligonucleotide sequence
No mismatches
63.9
–
58.6
–
5´-CAC-TGA-CTT-GAG-ACC-A-3´
Mismatch A
57.0
6.9
41.3
17.3
5´-CAC-TGA-GTT-GAG-ACC-A-3´
Mismatch B
49.7
14.2
No Tm
–
5´-CAC-TGA-GTG-GAG-ACC-A-3´
Mismatch C
61.8
2.1
54.6
4.0
5´-CAC-TGA-CTT-GAG-ACG-A-3´
Mismatch D
56.7
7.2
No Tm
–
5´-CGG-TGA-CTT-GAG-ACC-A-3´
Mismatch E
53.6
10.3
No Tm
–
5´-CAC-TGA-CGT-GAG-ACC-A-3´
Mismatch F
56.2
7.7
No Tm
–
5´-CAC-TGA-CTG-GAG-ACC-A-3´
Mismatch G
54.2
9.7
42.4
16.2
5´-CAC-TGA-CAT-GAG-ACC-A-3´
Table 1: Stringent binding specificity of gripNAs.
Identical 16-mer gripNA and DNA probes were synthesized with the sequence 5´-TGG-TCT-CAA-GTC-AGT-G-3´. These were annealed to a complementary DNA oligo (5´-CAC-TGA-CTT-GAG-ACC-A-3´) in Hybridization Buffer (20 mM Tris (pH 7.5), 500 mM NaCl, 10 mM MgCl2). Each sample was heated to 90°C for 3 minutes, then cooled gradually to room temperature. The samples were then heated at a rate of 1°C per minute from 20°C to 100°C using a thermal control unit linked to a spectrophotometer. Changes in A260 were recorded and a melting temperature (Tm) was calculated for the DNA/DNA and gripNA/DNA duplexes. The experiment was then repeated by hybridizing the gripNA and DNA probes to a series of DNA oligos containing one- or two-base mismatches (shown above, with the mismatches in bold & underlined). Tm values were measured for each DNA/DNA and gripNA/DNA duplex and a ΔTm was calculated by subtracting the difference in the melting temperatures of the complementary and mismatched probes. Samples that are unable to form a stable duplex generate a "No Tm" value in this assay and no ΔTm.
Simple, efficient gripNA delivery with Chariot II™
Delivery of inhibitory molecules into the cell is a key limitation for any gene silencing experiment. Classical delivery mechanisms such as microinjection and DNA/RNA transfection can be time consuming and inefficient. Their biggest drawback, however, is that these methods can induce cytotoxic responses within the target cells. Delivery of gripNAs with Chariot II is simple and provides high transfection efficiencies with minimal cytotoxicity(4).
To prove the effectiveness of Chariot II for gripNA delivery, fluorescently labeled gripNA was mixed with Chariot II and incubated for 30 min at 37°C, then overlaid onto cultured fibroblast cells for 1 hr (Figure 3). The results clearly show the high efficiency at which Chariot II is able to deliver gripNAs. Don't waste time on microinjection and transfection when you can deliver your gripNAs by Chariot II.
Figure 3: Chariot II delivery of Fluorescein-tagged gripNA.
An 18-mer gripNA probe (1 µM) labeled on its 3´ end with Fluorescein was complexed with Chariot II in PBS and incubated for 30 minutes at 37°C, then overlaid onto cultured HS-68 for 1 hour. Cells were washed extensively prior to observation. (Data generously provided by Dr. L. Chaloin, Dr. M. Morris and Dr. G. Divita, Biophysics, CNRS, Montpellier, France.)
References
1. Efimov, V.A. et al. (1998) NAR 26: 566-575.
2. van der Laan et al. (1996) Tetrahedron Lett. 37: 7857-7860.
3. Efimov, V.A. et al. (1999) NAR 27: 4416-4426.
4. Morris, K.A. et al. (2003) Developmental Dynamics 228: 405-413.
5. Stein, C.A. (1999) Nature Biotech. 17: 209.
6. Urtishak, K.A. et al. (2004) Gene Therapy 11(9): 757-764.
gripNA oligonucleotides cause their gene silencing effects by binding to the targeted mRNA molecule. Thus, the gripNA sequence must be complementary, or antisense, to the gene to be silenced. It should also be specific for the targeted gene. In order to design a gripNA probe that effectively and specifically silences a single target, researchers must have an accurate sequence of the gene that they wish to silence. GenBank or similar sources should be used to ensure that any selected gripNA sequence is targeted specifically to the gene of interest.
Blocking Translation
The following guidelines generally lead to gripNA probes that are effective for blocking translation of their targeted mRNAs. However, as research into gripNA continues, these parameters will be further refined and optimized.
1. Target the AUG
As ribosomes assemble at the AUG translational start site, Active Motif has focused its efforts on designing and testing gripNAs that bind in this region. Effective gene silencing has been shown both in vitro and in mammalian cells when gripNAs were targeted in the region from the 5´-cap structure to about 15 bases 3´ of the AUG translational start site of the spliced mRNA. To date, our experiments have not shown a statistically significant difference between the gene silencing effects of gripNAs that target different positions around the AUG. For example, 3 different gripNAs were synthesized to silence luciferase mRNA using an in vitro rabbit reticulocyte system. These were targeted so that the gripNA would bind either across or on the 5´ or 3´ end of the AUG in the luciferase mRNA:
5´-CAT-TTG-GAT-CCG-GGC-CCT-3´
5´-GTC-TTC-CAT-TTG-GAT-CCG-3´
5´-GTT-TTT-GGC GTC-TTC-CAT-3´
All 3 of these gripNAs were effective at silencing the luciferase. However, the secondary structures found in mRNA may have some effect on the relative efficacies of individual gripNA sequences. As new data becomes available, it will be posted here.
2. Minimize self-complementarity
Preferably, the sequence of your gripNA probe should not be able to form more than 4 contiguous intrastrand base pairings.
3. Sequence limitations.
Unlike other synthetic oligonucleotides, gripNAs have no sequence synthesis limitations that we have identified. gripNAs with a guanine content of 11 out of 18 bases (> 60%) have been made successfully. The solubility of gripNAs with high guanine content is also excellent due to the alternating negative charge on the gripNA backbone.
Blocking Nuclear Processing
The guidelines for effective blocking of nuclear processing events, particularly splicing, are essentially the same as those required for blocking translation. However, it should be noted that because some nuclear processing events occur rapidly after RNA transcription, gripNA probes will have only a brief time in which to interact with their targeted nuclear processing sequence before these sequences carry out their function. Effective blocking of such sequences may therefore require higher gripNA probe concentrations than would normally be required for blocking translation at the AUG translational start site.
Selection of Multiple Targets
To date, successful silencing has been achieved using the above method to select the target sequence, although the method is essentially random with respect to accounting for mRNA secondary structure. While gripNA silencing appears to be extremely effective by selecting a single target in the mRNA, it may be desirable to design and employ two independent gripNA probes to control for specificity of the silencing effect. It is as yet unknown if the targeting of a gene by two different gripNA duplexes is more effective than using a single gripNA probe. However, selecting multiple targets within your gene of interest will enable selection of the most efficient gripNA probe.
gripNA Oligo Length
gripNA synthesis is performed on a derivatized CPG support using an automated DNA synthesizer. In contrast to conventional phosphoramidite synthesis of DNA or RNA, gripNA synthesis utilizes phosphotriester coupling of dimer synthons. The gripNA dimer building blocks are composed of alternating HypNA-pPNA molecules. Due to the nature of the gripNA synthesis chemistry the total number of residues in any given sequence must be an even number, i.e. an 18-mer, 16-mer, 14-mer, etc. gripNA oligos are offered at a maximum length of 18 bases, which was found to be the optimal length to observe maximum antisense effect. While shorter gripNAs can be ordered, gripNA pricing is independent of length. We recommend ordering 18-mers, which should be more efficient.
3´-End Modifications
With each gripNA ordered, you can have one of three optional modifications added to the 3´-end of your sequence, if desired. These include:
Addition of a 3´-primary amine.
Addition of a 3´-Biotin.
Addition of a 3´-Fluorescein.
The default for our gripNA Fax Order Form is for no 3´-end modification. Please be sure to check the appropriate box if you would like your gripNA sequence to contain one of the optional modifications.
Scale of Synthesis
gripNAs are synthesized at a 200-nmol scale. This is, on average, sufficient for over 600 cell culture experiments carried out in 12-well plates. The number of experiments will increase or decrease depending on the size of the culture plate used and the amount of gripNA used per experiment.
Purification
gripNA oligos are purified using cartridge purification; a reverse phase chromatography procedure ensures that synthesis impurities, ammonia and truncated sequences are eliminated from the final product. The gripNA is then desalted and lyophilized.
Quality Control
To ensure the quality of gripNA probes, every gripNA is analyzed by (MALDI-TOF) mass spectrophotometry. This technique provides a fast, accurate method of determining the mass of an oligonucleotide and can determine the presence of unwanted species, such as deletion sequences, depurination product and incompletely deprotected.
Chariot II for gripNA Delivery
When ordering your gripNA probe, you have the option of ordering Active Motif's Chariot II. gripNA delivery into mammalian cells using Chariot II is simple and provides high transfection efficiencies with minimal cytotoxicity. Enough Chariot II is provided for ~96 gripNA deliveries in 12-well plates.
Other methods available for gripNA delivery into mammalian cells include lipofection and cell scraping methods, though these methods are more toxic and require substantially more gripNA per delivery, respectively. For delivery details, please download the gripNA manual.
Positive Control
One 5 nmol vial of 3´-Fluorescein-labeled human CREB gripNA is supplied free of charge with each 10 gripNA sequences ordered (i.e. 1 vial for 1-10 gripNAs, 2 vials for 11-20 gripNAs, etc.). Each vial is sufficient for ~16 cell culture experiments carried out in 12-well plates. If you would like to purchase additional vials of positive control, 25 nmol vials are available for purchase. Please fill in the number of additional vials you would like at the bottom of the order form.
gripNA Shipment
gripNAs are supplied lyophilized and can be shipped at room temperature. gripNA orders from within North America will be delivered within 21 days of Active Motif receiving the order. Orders originating outside North America may require additional time due to extra handling and customs.
Placing Your Order
In order to prevent errors, Active Motif will not accept phone orders for custom gripNAs. Customers must place their order by downloading the gripNA Fax Order Form, which is found under the Documents tab above. This form should be filled out and faxed to the appropriate Active Motif office or, if you are in a country served by a distributor, then faxed to your distributor.