HiLite™ Histone H3 Methyl-Lys9 / Lys27 FP Binding Assay
identify proteins that bind methylated H3K9 and H3K27 using fluorescence polarization
The HiLite™ Histone H3 Methyl-Lys9 / Lys27 FP Binding Assay allows you to identify proteins that interact with histone H3 methylated at either lysine 9 or lysine 27 and to further characterize the interactions. Using fluorescence polarization, we make it simple to perform complicated histone modification binding experiments.
HiLite Histone Binding Assay advantages
All the reagents and a detailed protocol have been developed to help you perform methyl-histone binding assays to examine proteins that bind to either methyl Lys9 or methyl-Lys27 of histone H3.
FP is a homogeneous technology with no washing steps. This increases speed and precision.
Reactions are very rapid, generally taking only seconds to minutes to reach equilibrium.
FP experiments are non-perturbing, so the influence on binding of multiple factors can be analyzed on the same samples (e.g. changes in pH, temperature, salt concentration, etc.).
Active Motif's new HiLite Histone H3 Methyl-Lys9 / Lys27 FP Binding Assay uses fluorescence polarization to accurately measure the interaction of a single histone binding protein with methylated histones. You can determine which methylated histone your protein is specific for, how well it discriminates between lysine 9 and lysine 27 as well as its binding constant.
Whats in the Box?
Eight fluorescent peptides with varying states of methylation (or no methylation), corresponding to the region of histone H3 around either lysine 9 or lysine 27
HP1 protein to use as a positive control for binding to methyl-histone H3 lysine 9
Binding buffer, FP reader calibration dye and 96-well plates
Examine histone modification binding proteins
DNA is organized by its incorporation into chromatin, 147 base pairs of DNA coiled around an octamer of core histone proteins. Specific functional groups (phospho-, methyl-, acetyl-, ubiquityl-) are added or subtracted from histone proteins, and these dynamic addition and subtraction events have profound affects on the function of chromatin. Modified histones recruit specialized chromatin-interacting proteins that facilitate the defined function conferred by the histone modification. These histone-effector protein interactions give rise to downstream protein recruitment, enzyme and substrate interactions. Identifying proteins that interact with modified histones if of great interest as these proteins are often important regulators of genome function, in effect transducing the signal of a histone modification to effect a specific cellular outcome.
Fluorescence Polarization makes your experiments possible
Fluorescence Polarization is based on the observation that when fluorescent molecules in solution are excited with polarized light, they will emit light back as polarized light as long as they remain stationary during the excitation of the fluorophore. The polarization of a molecule is proportional to the molecule's rotational relaxation time, or basically how fast the molecule is spinning in solution. If a molecule is very large, little movement occurs during excitation and the emitted light remains highly polarized in the initial plane. If a molecule is small, rotation and tumbling is faster and the emitted light is depolarized relative to the excitation plane. A small molecule, such as a peptide, can be "converted" into a larger molecule through the binding of a larger protein. When the larger molecule binds to a smaller molecule there is a reduction in the amount of rotation during the excited state. This results in higher polarization values.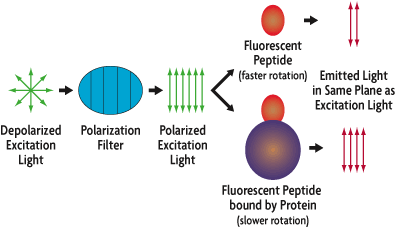 Figure 1: Overview of the theory of fluorescence polarization.
FP assays are homogenous and there is no need to remove unbound fluorophore. Consequently, fluorescence polarization can be used to differentiate bound and unbound fluorophore. This change in polarization can be measured and used to calculate the amount of binding that has occurred. In the case of this assay, the amount of binding can be used to determine the specificity of a particular protein for methylated histone tail peptides. By titrating the amount of the larger molecule (i.e. protein) in relation to the smaller molecule (peptide), a binding curve can be generated (the amount of polarization observed is proportional to the amount of protein complex formed, which is proportional to the concentration of the binding partners in solution). Curve fitting can be used to determine the Kd and mathematical models can be applied to this binding curve to determine the binding constant of the protein interaction.
Contents & Storage
The HiLite™ Histone H3 Methyl-Lys9 / Lys27 Binding Assay includes eight fluorescently conjugated histone peptides (unmodified H3 Lys9, H3 monomethyl Lys9, H3 dimethyl Lys9, H3 trimethyl Lys9, unmodified H3 Lys27, H3 monomethyl Lys27, H3 dimethyl Lys27 and H3 trimethyl Lys27), Binding Buffer, Calibration dye, HP1 positive control protein, DTT and five black half area 96-well plates. Storage conditions vary from room temperature to -20°C, see manual for details. All reagents are guaranteed stable for 6 months when stored properly.