Chromeo™ STED Immunofluorescence System
optimized sample preparation for STED microscopy
STED microscopy takes advantage of the STimulated Emission Depletion (STED) technology to produce super-resolution fluorescence microscopy images. However, due to the high resolving power of the method, it is extremely important to optimize the techniques and reagents used for sample preparation. To achieve consistent results, you must establish a reproducible procedure that minimizes variations from sample to sample. This can be a demanding and time-consuming task: many different methods exist in the literature for each individual step of a multi-step procedure, and a number of reagents must be prepared without lot-to-lot variations and optimized to work together. In addition, the choice and preparation of materials like coverslips will have a major effect on sample quality.
To help ensure that you get the best results possible, Active Motif collaborated with Leica Microsystems to develop the Chromeo™ STED Immunofluorescence System, which is used to prepare samples for STED microscopy. Because proper sample preparation is perhaps the most significant factor for obtaining high-quality STED images, the kit is an inexpensive way to be certain that you obtain the most scientific value from the investment in your STED microscope, and the reason Leica recommends the kit for use with its STED microscopes. In addition to high-quality slides and cover-slips, the kit contains reagents from the complete line of MAX Stain™ Immunofluorescence Tools, which were developed to provide high-quality fluorescence microscopy images.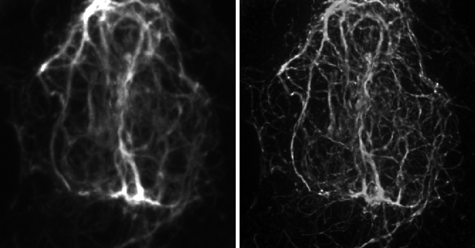 Figure 1: Comparison between conventional, confocal microscopy and STED microscopy.
Vimentin was stained with a primary monoclonal mouse antibody and the Chromeo 488 Goat anti-mouse IgG (Catalog No. 15031) secondary antibody. The image on the left was prepared using a confocal microscope, while that on the right shows the visualization of the vimentin network by STED microscopy. Images courtesy of Leica Microsystems, Germany.
The Chromeo™ STED Immunofluorescence System takes the guesswork and challenge out of your immunofluorescence experiments by providing you with a complete set of proven, QC-tested IF reagents and materials as well as an optimized protocol. This kit was designed to help you consistently prepare high-quality samples for use in STED microscopy. The procedure is based on the method of indirect immunofluorescence, which is the labeling of a cellular protein with a primary antibody and the subsequent detection of the primary antibody with fluorescent-conjugated secondary antibody. It is recommended that you only use primary antibodies that have performed well in other IF techniques. The kit includes materials to perform the following steps:
Coverslip Preparation
Cell Preparation
Fixation
Blocking
Primary Antibody Incubation
Secondary Antibody Incubation
Slide Mounting
Advantages of the Chromeo™ STED Immunofluorescence System
Quality-controlled reagents ensure reproducibility
No need to optimize your own procedure
All materials have been certified for use in STED by Leica
Sample preparation for the TCS STED and TCS STED CW microscopes
Contents & Storage
50 MAX Stain™ Coverslips and 24 clean MAX Stain™ Slides should be stored at room temperature. MAXblock™ Blocking Medium, MAXbind™ Staining Medium, MAXwash™ Washing Medium and MAXfluor™ Mounting Medium S should be stored at 4°C in the dark. All reagents are guaranteed stable for 6 months when stored properly.
The kit provides enough materials and reagents to prepare 24 samples for STED microscopy.
Blocking, Staining and Washing media can be re-ordered in larger quantities. For more information, please visit our complete line of MAX Stain™ Immunofluorescence Tools.