Expressed In:
Baculovirus
Protein Species:
Human
Request a quote for a bulk order
---
for Recombinant VRK1 protein

Contents

10 µg of Recombinant VRK1 protein in 50 mM Tris-HCl, pH 8.0; 100 mM NaCl, 5 mM DTT, 15 mM reduced glutathione, 20% glycerol. Please refer to product insert upon arrival for lot-specific concentration.
for Recombinant VRK1 protein

Background

VRK1 (Vaccinia Related Kinase 1) is a serine/threonine kinase involved in Golgi disassembly during the cell cycle: following phosphorylation by PLK3 during mitosis, required to induce Golgi fragmentation. Acts by mediating phosphorylation of downstream target protein. Phosphorylates Thr-18 of p53/TP53 and may thereby prevent the interaction between p53/TP53 and MDM2. Phosphorylates casein and histone H3. Phosphorylates BANF1: disrupts its ability to bind DNA, reduces its binding to LEM domain-containing proteins and causes its relocalization from the nucleus to the cytoplasm. Phosphorylates ATF2 which activates its transcriptional activity.
for Recombinant VRK1 protein

Application Notes

Recombinant VRK1 is suitable for kinase assays and Western blot. The molecular weight of the protein is ~75.142 kDa. The activity of the protein is 30 pmol/µgxmin.

Recommended kinase reaction conditions: 60 mM HEPES-NaOH, pH 7.5, 3 mM MgCl2, 3 mM MnCl2, 3 μM Na-orthovanadate, 1.2 mM DTT, 50 μg / ml PEG20.000, ATP (variable), Substrate: R11-S6-Peptide, (R11-IAKRRRLSSLRASTSKSESSQK), 200 μg / μl, VRK1: 4.0 μg / ml Kinase activity may vary depending on the substrate and reaction conditions used.
for Recombinant VRK1 protein

Protein Details

Recombinant human VRK1 protein was produced using baculovirus infected Sf9 cells. The protein was made against amino acids M1-K396, accession number NM_003384 and N-terminally fused to a GST-HIS6-Thrombin cleavage site. Purified by GSH-agarose affinity purification.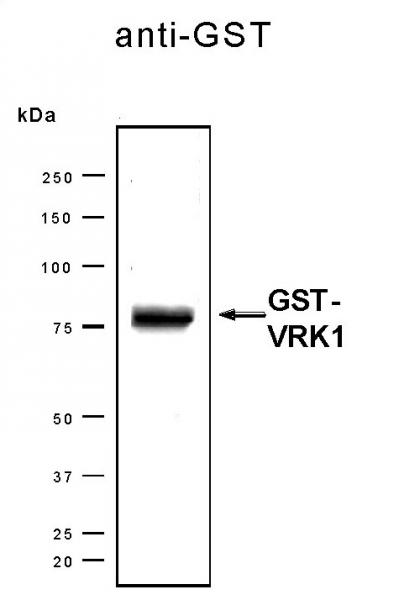 for Recombinant VRK1 protein

Storage

Recombinant proteins in solution are temperature sensitive and must be stored at -80°C to prevent degradation. Avoid repeated freeze/thaw cycles and keep on ice when not in storage.
for Recombinant VRK1 protein

Guarantee

This product is guaranteed for 6 months from date of receipt.

This product is for research use only and is not for use in diagnostic procedures.