Recombinant KAT2A (GCN5) protein
Aliases: KAT2A; hGCN5; GCN5L2; PCAF-b
| | | | |
| --- | --- | --- | --- |
| Catalog No: 31204 | Format: 5 µg | $390 | Buy Now |
Expressed In:
E. coli
Protein Species:
Human
Request a quote for a bulk order
---
for Recombinant KAT2A (GCN5) protein

Contents

5 µg of Recombinant KAT2A (GCN5) protein, active. KAT2A (GCN5) is formulated in 20 mM Tris-HCl pH 7.3, 20% glycerol, 0.2 mM EDTA, 300 mM KCl, 1 mM DTT containing 0.5 mM PMSF. Please refer to product insert upon arrival for lot-specific concentration.
for Recombinant KAT2A (GCN5) protein

Background

GCN5 (General control of nutrition 5), also known as K (lysine) acetyltransferase 2A (KAT2A), is a component of the ATAC complex, which is a complex that specifically exerts histone acetyltransferase (HAT) activity on histones H3 and H4. KAT2A (GCN5) acts as a histone acetyltransferase to promote transcriptional activation. In the case of HIV-1 infection, it is recruited by the viral protein TAT and regulates TAT's transactivating activity. In addition, evidence suggests KAT2A (GCN5) may play a role in the induction of chromatin remodeling of proviral genes. KAT2A (GCN5) also functions as a repressor of NFκB by promoting ubiquitination of the NFκB subunit RelA in a HAT-independent manner.
for Recombinant KAT2A (GCN5) protein

Application Notes

This protein has been tested for activity in the fluorescent HAT Assay Kit, Catalog No. 56100. 50 ng of KAT2A (GCN5) were assayed per well using 50 µM histone H3 peptide substrate, 50 µM Acetyl-CoA and incubated for 30 minutes at room temperature. The assay was read on a fluorescent plate reader (ex. 360-390 nm, em. 450-470 nm). The specific activity was 100 pmol/min/µg.
for Recombinant KAT2A (GCN5) protein

Protein Details

Recombinant FLAG-tagged KAT2A (GCN5) (amino acids 362-837) protein is expressed in E. coli and purified by affinity chromatography. Protein is supplied at 0.1 mg/ml. The Genbank Accession number for this KAT2A (GCN5) is U57316. The apparent MW is 55 kDa.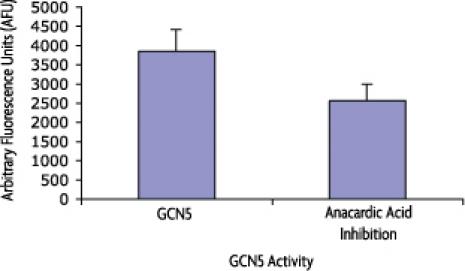 for Recombinant KAT2A (GCN5) protein

Guarantee

This product is guaranteed for 6 months from date of receipt.

This product is for research use only and is not for use in diagnostic procedures.