<< Back to MOTIFvations Blog Home Page
Meet Our Experts | Jesse Lopez, Ph.D., Services Research Scientist at Active Motif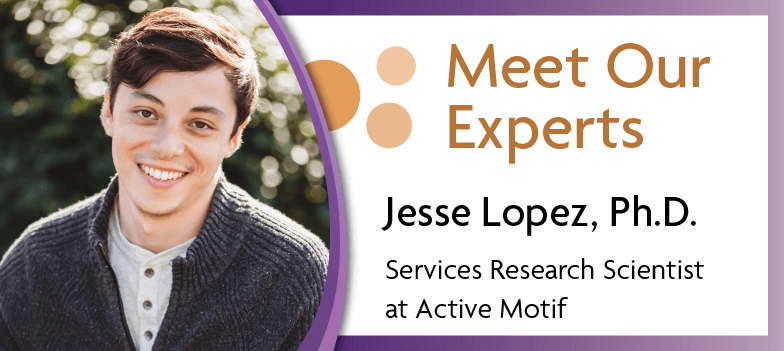 April 22, 2020
Active Motif is a company built by scientists, for scientists. We have developed a lot of innovative technologies, products, and services over the past two decades, but what makes us special is our people.
Our team of experts have created a culture and environment that fosters continued innovation on a foundational philosophy that "good science is good business."
We are excited to offer a behind-the-scenes glimpse into the careers and mindsets of some of our epigenetics experts. These MOTIFers are solving complex challenges, navigating evolving research opportunities in epigenetics, and pushing the field forward.
Make sure to follow us on LinkedIn, Facebook, and Twitter to continue meeting our team of experts that are unraveling the epigenome.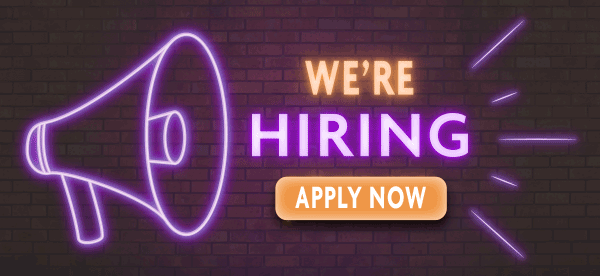 Active Motif: Hi Jesse! Welcome to our "Meet Our Experts" series, and thanks for being the first Active Motif expert to participate. Please start by telling us what you do at Active Motif, in your own words.
Jesse Lopez, Ph.D.: Thanks for the invitation, happy to be here! I'm a scientist on the Epigenetic Services team. I work on a number of other services, but my main work focuses on our single-cell ATAC-Seq and bulk ATAC-Seq services. I also work on improving our existing services as well as developing new ones.
AM: How long have you been working at Active Motif?
JL: I just had my 1-year anniversary, but so much has happened in the past year that it feels much longer.
AM: What were you doing before you joined Active Motif?
JL: I was a grad student at UC Davis, co-mentored by the LaSalle and Segal labs. My background is in the epigenomics of neurodevelopmental disease and the development of targeted epigenetic modifiers.
AM: What surprised you the most thus far working at Active Motif?
JL: It's a really tight knit company and everyone really works well together. I used a lot of antibodies and kits from Active Motif prior to joining so I knew that they had really good products, but I was surprised about all of the different areas of research that are ongoing. The output from R&D and Manufacturing is quite incredible.
AM: What are you up to when the lab coat gets hung up? 
JL: I enjoy getting lost in nature and often take my dog for hikes. I've really loved my move to North County since the area has so much to offer.

I have also been developing art techniques – mostly charcoal and pastels – to fuel my creativity, which I think is an underappreciated aspect of science as well.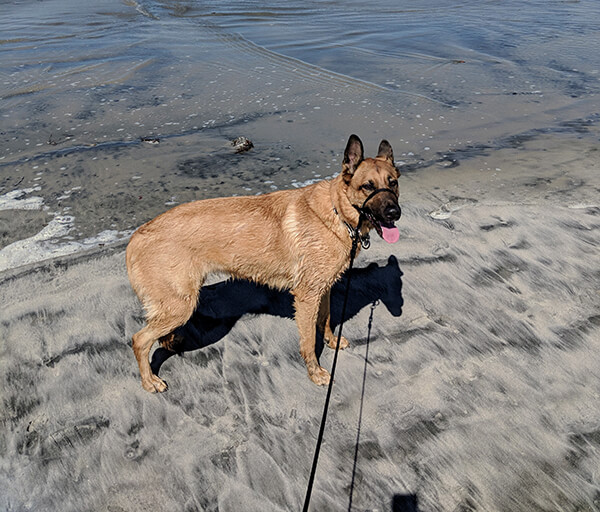 AM: Why epigenetics?
JL: I think it started in high school with the general idea that genetics had a link to health and disease. Following that interest, in college I was exposed to molecular genetic mechanisms of regulation and I developed this realization that DNA is overrated.

I began to feel that there is a massive amount of information hidden in the multiple layers of epigenetic regulation that can inform us on development, health, disease progression, and so much more. With the NGS technology advancements in the last 10 or so years and the omics explosion, these layers have really taken center stage.
DNA is overrated. There is a massive amount of information hidden in the multiple layers of epigenetic regulation that can inform us on development, health, disease progression, and so much more.
- Jesse Lopez on why epigenetics is so fascinating
AM: What do you feel is the hottest area of epigenetics research right now; any next big discoveries you are excited about?
JL: Epigenetics spans so many fields, but, since my personal interests are in human health and disease, I would say that the integration of epigenetics in pharmaceutical development is massive, especially as we make the push toward precision medicine.

More specifically, the development of epigenetic modifiers as therapeutic agents themselves could be promising, particularly as an alternative to direct gene editing.
AM: What is the best advice you have received in your career so far?
JL: Don't be afraid to take advantage of opportunities that present themselves. We don't always know where our path will take us – or even what paths may appear – but you shouldn't pass up a good opportunity that is right in front of you because of the unknown.
AM: What advice do you have for anyone looking to make the transition from academia to the biotech industry?
JL: Be open. There are so many fields in biotech that you never learn of while in academia and you can find that you truly enjoy something you would have never expected. More often than not, the skills you develop in academia will translate to almost any field in biotech as long as you are open to the switch.
AM: Finally, let's end with a fun question: what's your favorite #AMBandTee?
JL: A lot of my grad school thesis was focused on DNA methylation, so I am quite partial to the Run 5-mC shirt.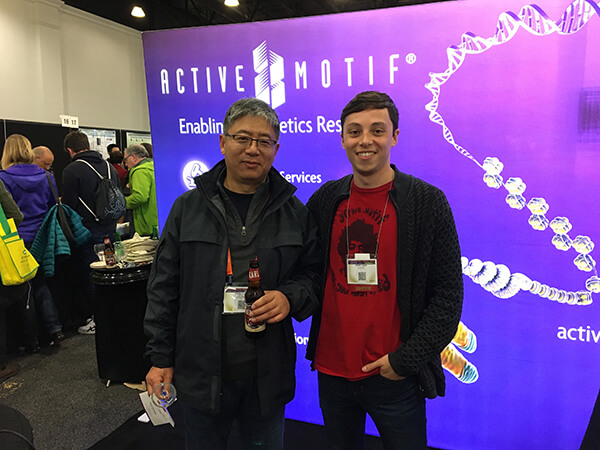 ---
A big thanks to Jesse for taking the time to sit down and answer our questions! We hope you enjoyed this article, and we can't wait to introduce you to more of our experts!
<< Back to MOTIFvations Blog Home Page