CUT&Tag-IT™ Service Overview
Cleavage Under Targets and Tagmentation (CUT&Tag) is a method to investigate genomic localization of histone modifications that reveals interactions between proteins and DNA or identifies DNA binding sites for proteins of interest.
CUT&Tag utilizes an antibody-based enzyme tethering strategy to target specific histone modifications or proteins to reveal chromatin-binding information that is specific to those sites or proteins of interest.
CUT&Tag is based on the same principles as ChIP-Seq, but with several changes to the protocol that are advantageous in certain situations. Instead of the sonication of fixed chromatin and immunoprecipitation steps performed in ChIP-Seq protocols, in CUT&Tag, unfixed cells are bound to concanavalin A beads and the antibody incubation is performed with cells in their native state. Directly following antibody binding, the chromatin is digested and NGS libraries are prepared in a single step by tagmentation using the protein A-Tn5 (pA-Tn5) transposase enzyme that has been pre-loaded with sequencing adapters.
Our Tn5 Transposase assisted chromatin tagmentation methods are covered by these patents: US9938524, US10689643B2, EP2783001B1, EP2999784B1.
Learn more about how CUT&Tag assays work
Work with the CUT&Tag Experts​
Let our team of experts produce high-quality CUT&Tag results from less starting material, saving you time and resources to allow you to focus on the bigger picture.
Using our CUT&Tag service is simple. You just submit your samples to Active Motif and receive the analyzed data and publication-ready figures back within a matter of weeks.
To learn more, please submit an Epigenetic Services Information Request.
How the CUT&Tag Assay Works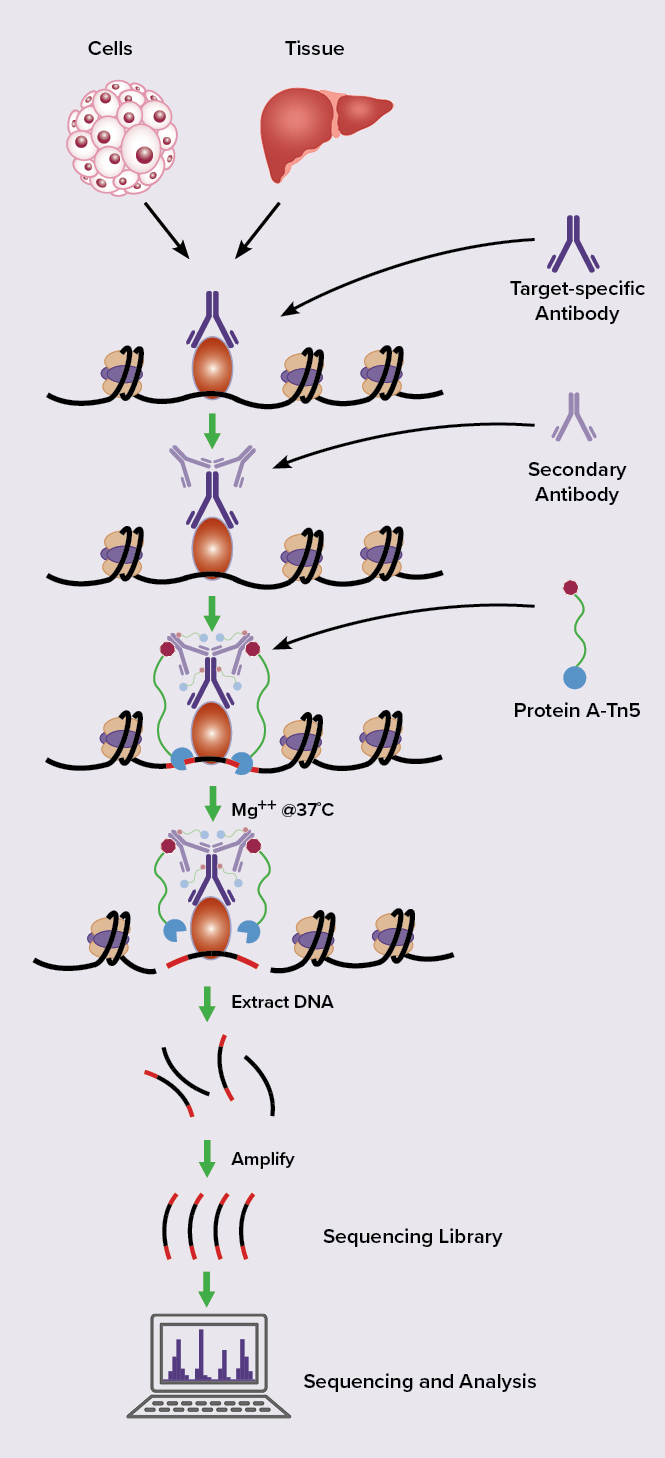 What are the Advantages of Using Active Motif's CUT&Tag-IT™ Service?
CUT&Tag can be used to identify genome-wide histone modification or transcription factor profiling using a fraction of starting material that is recommended for ChIP-Seq. Having the ability to use less starting material allows for the profiling of histone modifications and transcription factor binding studies in sample types that due to sample quantities were not suitable for ChIP-Seq.
CUT&Tag also has the advantage of low background signal such that a lower sequencing depth can be used resulting in high-quality data at a fraction of the cost of ChIP-Seq.
With our end-to-end CUT&Tag-IT™ Service, you don't need to worry about protocol optimization or testing multiple antibodies to try to find one that works because we take care of all of that for you. There's also no need to learn bioinformatics because analysis of the next-generation sequencing data and explanation of the results are included standard.
Active Motif's end-to-end CUT&Tag-IT™ Service includes:
Cell preparation
Concanavalin-A incubation and antibody binding
Tagmentation using protein-A-Tn5 for library generation
Perform next-generation sequencing
Comprehensive bioinformatics and data analysis
Delivery of publication-ready figures
CUT&Tag-IT™ Service Data
---
CUT&Tag-IT™ Service Documents
You might also be interested in:
Name
Cat No.
Price
CUT&Tag-IT™ Service
25110
Get Quote
CUT&Tag-IT™ Service for Tissue
25115
Get Quote