MethylCollector™ Ultra-Seq (MIRA-Seq)
specific enrichment and mapping of CpG-methylated DNA
Active Motif's MethylCollector™ Ultra Kit, which is used to specifically enrich for methylated DNA from fragmented genomic DNA, is now offered as an end-to-end, full service assay by our Epigenetic Services. Customers can submit cells or DNA and receive fully analyzed genome-wide methylation data in just weeks.
MethylCollector Ultra, which is based on the patented MIRA (Methylated CpG Island Recovery Assay) technology, offers the fastest, most efficient methylated DNA enrichment method on the market. Using a purified, methylated DNA binding complex of MBD2b and MBD3L1, enrichment can be achieved from as little as 1 µg of DNA. In this service, enrichment of methylated double-stranded DNA is performed and evaluated. Upon confirmation of a successful outcome, a Next-Gen Sequencing library is prepared followed by sequencing and data analysis.
The MethylCollector Ultra-Seq Service includes:
Isolation of DNA from cells or tissues.
Enrichment of methylated DNA using MethylCollector Ultra.
qPCR analysis of positive and negative control sites.
Generation of a Next-Gen Sequencing library
Sequencing of at least 30 million tags using the Illumina HiSeq platform.
Analysis and delivery of data: mapping, peak calling, visualization files and Excel output.
To learn more, please give us a call or send us an Epigenetic Services Information Request. You can also download Active Motif's Epigenetic Services Profile.
*Technology covered under U.S. Patent No. 7,425,415.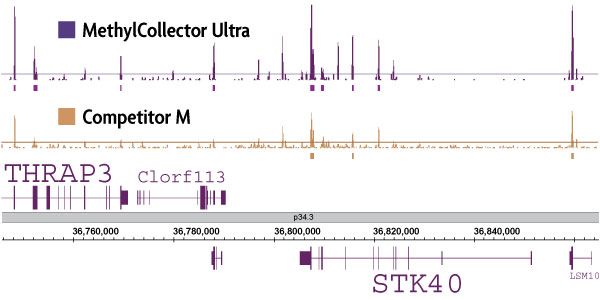 MethylCollector Ultra-Seq is more sensitive than other MBD-based enrichment methods.