Epigenetics & Chromatin

Panobinostat
Aliases: (E)-N-hydroxy-3-(4-((2-(2-methyl-1H-indol-3-yl)ethylamino)methyl)phenyl)acrylamide
| | | | |
| --- | --- | --- | --- |
| Catalog No: 14044 | Format: 25 mg | $265 | Buy |
| Catalog No: 14045 | Format: 5 mg | $75 | Buy |
Application: Histone Acetylation (HAT & HDAC)
Chemical Properties
MW = 349.4
C21H23N3O2
CAS 404950-80-7
≥98% (TLC); NMR (Conforms)
Description
A potent inhibitor of class I and II HDACs (ref 1). Cotreatment with panobinostat and an HSP90 inhibitor caused synergistic apoptosis in human CML-BC and AML cells (ref 2). A potent antimyeloma agent that overcomes drug resistance (ref 3).
Contents
Off white powder. May be dissolved in DMSO (100 mg/ml); Ethanol (5 mg/ml warm).
Storage Conditions
Store desiccated as supplied at -20°C for up to 1 year. Store solutions at -20°C for up to 1 month.
References
1. L Geng et al. Cancer Res. 2006, 66:11298
2. P George et al. Blood 2005, 105:1768
3. P Maiso et al. Cancer Res. 2006, 66:5781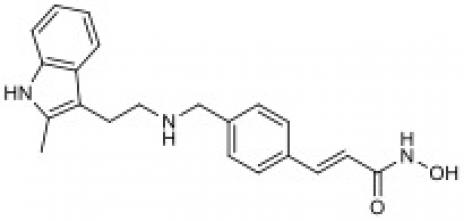 Technical Data Sheet
Panobinostat
Data Thumbnails