Recombinant ErbB-2 protein
Aliases: NEU, NGL, HER2, TKR1, CD340, HER-2, MLN 19, HER-2/neu
| | |
| --- | --- |
| Catalog No: 31166 | Format: 10 µg |
Expressed In:
Baculovirus
Protein Species:
Human
Request a quote for a bulk order
---
for Recombinant ErbB-2 protein

Contents


This product has been discontinued

10 µg of Recombinant ErbB-2 protein in 50 mM Tris-HCl, pH 8.0; 100 mM NaCl, 5 mM DTT, 15 mM reduced glutathione, 20% glycerol.
for Recombinant ErbB-2 protein

Application Notes

Recombinant ErbB-2 is suitable for kinase assays and Western blot. The molecular weight of the protein is ~93.908 kDa. The activity of the protein is ~ 7 pmol/µg min. Recommended kinase reaction conditions: 60 mM HEPES-NaOH, pH 7.5, 3 mM MgCl2, 3 mM MnCl2, 3 µM Na-orthovanadate, 1.2 mM DTT, ATP (variable), 2.5 µg/50 µl PEG20.000, Substrate: PolyEY 2 µg/50 µl, Recombinant ErbB-2: 400 ng/50 µl. Kinase activity may vary depending on the substrate and reaction conditions used.
for Recombinant ErbB-2 protein

Protein Details

Recombinant human ErbB-2 protein was produced using baculovirus infected Sf9 cells. The protein was made against amino acids Q679-V1255 , accession number X03363 and N-terminally fused to a GST-HIS6-Thrombin cleavage site. Purified by GSH-agarose affinity purification.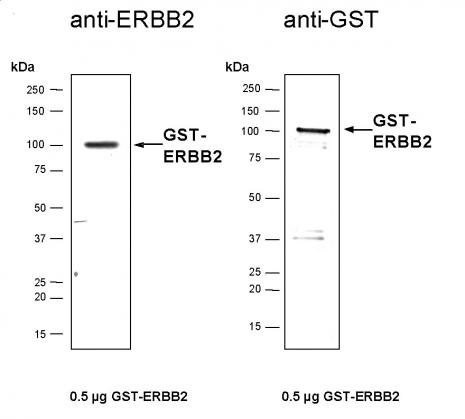 for Recombinant ErbB-2 protein

Guarantee

This product is guaranteed for 6 months from date of receipt.

This product is for research use only and is not for use in diagnostic procedures.