---
Expressed In:
Bovine
Protein Species:
Bovine
---
Contents
A representative Technical Data Sheet (TDS) is provided here. Please refer to the lot-specific TDS you will receive with your order for the lot-specific buffer contents and protein concentration.
Application Notes
Myelin Basic Protein, MBP, is useful as a substrate for in vitro kinase assays, including MAPK, PKA, PKC cyclin-dependent and calmodulin-dependent protein kinases.
Protein Details
Myelin Basic Protein is purified from bovine brain using SP-Sepharose™ FPLC and dephosphorylated using lambda phosphatase. Lambda phosphatase is then inactivated by the addition of EDTA and heat treatment (65°C for 1 hour). The estimated purity is > 95% based on Coomassie staining.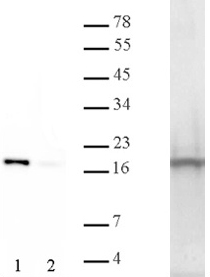 Storage
Lyophilized proteins can be stored at -20°C or -80°C, preferably desiccated. Recombinant proteins in solution are temperature sensitive and must be stored at -80°C to prevent degradation. Avoid repeated freeze/thaw cycles and keep on ice when not in storage.
Guarantee
This product is guaranteed for 6 months from date of receipt.

This product is for research use only and is not for use in diagnostic procedures.
Technical Data Sheet
Myelin Basic Protein, dephosphorylated
Data Thumbnails