Recombinant Proteins & Enzymes

»
»
Recombinant BRWD1 (1310-1430) protein
Recombinant BRWD1 (1310-1430) protein
Aliases: N143; WDR9; C21orf107
| | | | |
| --- | --- | --- | --- |
| Catalog No: 31440 | Format: 100 µg | $410 | Buy |
| Catalog No: 31840 | Format: 1 mg | $2,600 | Buy |
Expressed In:
E. coli
Protein Species:
Human
Request a quote for a bulk order
---
Contents
Recombinant BRWD1 (1310-1430) protein is supplied in 25 mM Tris pH 8.0, 500 mM NaCl, 20% glycerol. Please refer to product insert upon arrival for lot-specific concentration.
Background
BRWD1 (Bromodomain and WD repeat domain containing 1) is a member of the WD repeat protein family. WD repeats are minimally conserved regions of approximately 40 amino acids typically bracketed by gly-his and trp-asp (GH-WD) residues which may facilitate formation of heterotrimeric or multiprotein complexes. Members of this family are involved in a variety of cellular processes including cell cycle progression, signal transduction, apoptosis, and gene regulation. This protein contains 2 bromodomains and multiple WD repeats. The bromodomain functions as a 'reader' of epigenetic histone marks and regulates chromatin structure and gene expression by linking associated proteins to the recognized acetylated nucleosomal targets. In mouse, this BRWD1 is a nuclear protein that has a polyglutamine-containing region that functions as a transcriptional activation domain. This domain associates with a component of the SWI/SNF chromatin remodeling complex and may function to regulate chromatin remodeling. BRWD1 plays a role in the regulation of cell morphology and cytoskeletal organization and is also required in the control of cell shape.
Application Notes
Recombinant BRWD1 (1310-1430) is suitable for use in binding assays, inhibitor screening, and selectivity profiling.
Protein Details
The protein corresponding to amino acids 1310-1430 that contains the bromodomain sequence of human BRWD1 protein (accession number NP_061836.2) was expressed in E. coli and contains an N-terminal His-Tag and C-terminal FLAG-Tag with a molecular weight of 18.97 kDa. The purity of the protein is >92% by SDS-PAGE.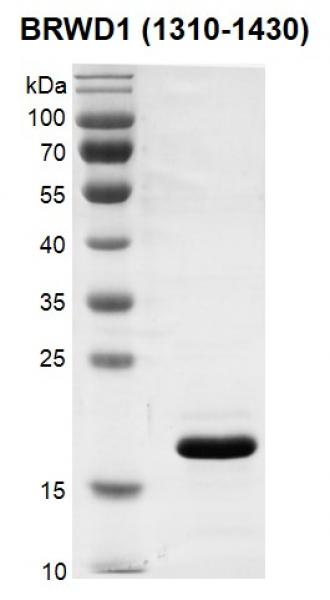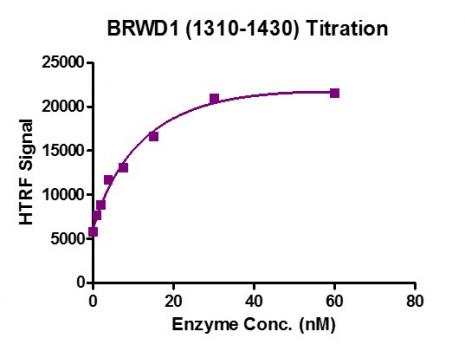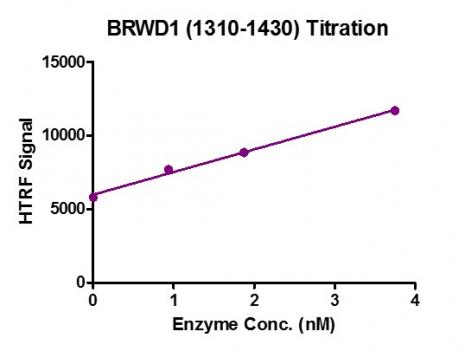 Storage
Recombinant proteins in solution are temperature sensitive and must be stored at -80°C to prevent degradation. Avoid repeated freeze/thaw cycles and keep on ice when not in storage.
Guarantee
This product is guaranteed for 6 months from date of receipt.

This product is for research use only and is not for use in diagnostic procedures.
Technical Data Sheet
Recombinant BRWD1 (1310-1430) protein
Data Thumbnails