Recombinant BAZ1B (1340-1457) protein
Aliases: WSTF; WBSCR9; WBSCR10
| | | | |
| --- | --- | --- | --- |
| Catalog No: 31444 | Format: 100 µg | $350 | Buy |
| Catalog No: 31844 | Format: 1 mg | $2,600 | Buy |
Expressed In:
E. coli
Protein Species:
Human
Request a quote for a bulk order
---
Contents
Recombinant BAZ1B (1340-1457) protein is supplied in 25 mM Tris pH 8.0, 500 mM NaCl, and 10% glycerol. Please refer to product insert upon arrival for lot-specific concentration.
Background
Bromodomain adjacent to zinc finger domain, 1B (BAZ1B) is a member of the bromodomain protein family. The bromodomain functions as a 'reader' of epigenetic histone marks and regulates chromatin structure and gene expression by linking associated proteins to the recognized acetylated nucleosomal targets. BAZ1B is an atypical tyrosine protein kinase that plays a central role in chromatin remodeling and acts as a transcriptional regulator. It is an essential component of the WICH complex, a chromatin remodeling complex that mobilizes nucleosomes and reconfigures irregular chromatin to a regular nucleosomal array structure. The WICH complex regulates the transcription of various genes and has a role in RNA polymerase I and RNA polymerase III transcription. In the complex, BAZ1B mediates the recruitment of the WICH complex to replication foci during DNA replication. BAZ1B and the WICH complex are also involved in DNA damage response through phosphorylation of Tyr142 of histone H2AX (H2AXY142ph), a mark that distinguishes between apoptotic and repair responses to genotoxic stress. BAZ1B is also involved in vitamin D-coupled transcription regulation via its association with the WINAC complex, a chromatin-remodeling complex recruited by vitamin D receptor (VDR), which is required for the ligand-bound VDR-mediated transrepression of the CYP27B1 gene. In the WINAC complex, BAZ1B plays an essential role by targeting the complex to acetylated histones, an essential step for VDR-promoter association. Deletion of BAZ1B leads to Williams-Beuren syndrome.
Application Notes
Recombinant BAZ1B (1340-1457) is suitable for use in binding assays, inhibitor screening, and selectivity profiling.
Protein Details
The protein corresponding to amino acids 1340-1457 that contains the bromodomain sequence of human BAZ1B protein (accession number NP_115784.1) was expressed in E. coli and contains an N-terminal His-Tag and C-terminal FLAG-Tag with a molecular weight of 17.8 kDa. The purity of the protein is > 75% by SDS-PAGE.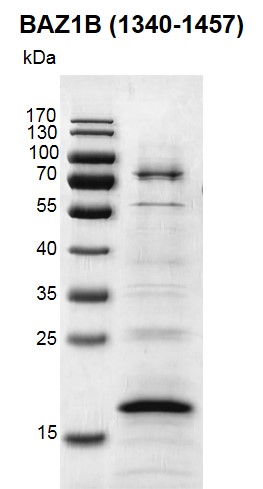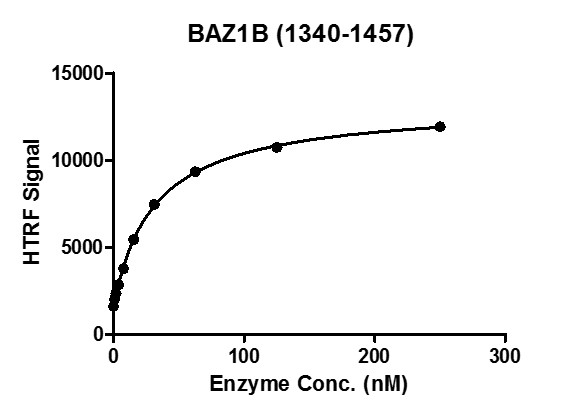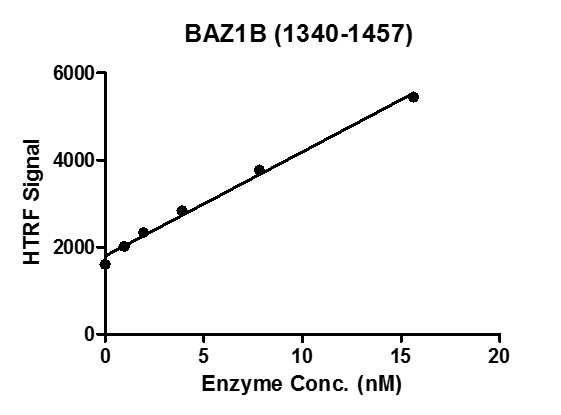 Storage
Recombinant proteins in solution are temperature sensitive and must be stored at -80°C to prevent degradation. Avoid repeated freeze/thaw cycles and keep on ice when not in storage.
Guarantee
This product is guaranteed for 6 months from date of receipt.

This product is for research use only and is not for use in diagnostic procedures.
Technical Data Sheet
Recombinant BAZ1B (1340-1457) protein
Data Thumbnails