Recombinant TDO2 protein
| | | | |
| --- | --- | --- | --- |
| Catalog No: 31588 | Format: 50 µg | $395 | Buy Now |
| Catalog No: 31988 | Format: 1 mg | $2,600 | Buy Now |
Expressed In:
E. coli
Protein Species:
Human
Request a quote for a bulk order
---
for Recombinant TDO2 protein

Contents

Recombinant TDO2 protein is supplied in 25 mM Tris-HCl pH 8.0, 300 mM NaCl, 10% glycerol, 0.5 mM TCEP. Please refer to product insert upon arrival for lot-specific concentration.
for Recombinant TDO2 protein

Background

TDO2 (Tryptophan 2,3-Dioxygenase, also known as TRPO, TDO, TO, TPH2) is a heme enzyme that plays a critical role in tryptophan metabolism by catalyzing the first and rate-limiting step of the kynurenine pathway. TDO2 has a broad specificity towards tryptamine and derivatives including D- and L-tryptophan, 5-hydroxytryptophan and serotonin. The excessive activation of TDO2 may also play a role in cancer through the suppression of antitumor immune responses.
for Recombinant TDO2 protein

Application Notes

This protein is useful for the study of enzyme kinetics, screening inhibitors, and selectivity profiling.

Activity Assay Conditions: 400 µM L-tryptophan was incubated with different concentrations of TDO2 protein in reaction buffer including 50 mM potassium phosphate pH 6.5, 20 mM ascorbic acid, 10 µM methylene blue and 200 µg/ml catalase for 1 hr at 37°C. The total 200 µl reaction was stopped by the addition of 40 µl 30% (w/v) trichloroacetic acid and heated at 65°C for 15 min. After cooled down to 4°C, the reaction was centrifuged at 1,125 g for 10 min. 100 µl supernatant was transferred into 96-well plate and mixed with 100 µl of 2% (w/v) p-DMAB in acetic acid. The yellow pigment derived from kynurenine was measured at 490 nm. 
for Recombinant TDO2 protein

Protein Details

Recombinant TDO2 was expressed in E. coli cells as the full length protein (accession number NP_005642.1) with an N-terminal 6×His tag. The molecular weight of the protein is 51.4 kDa.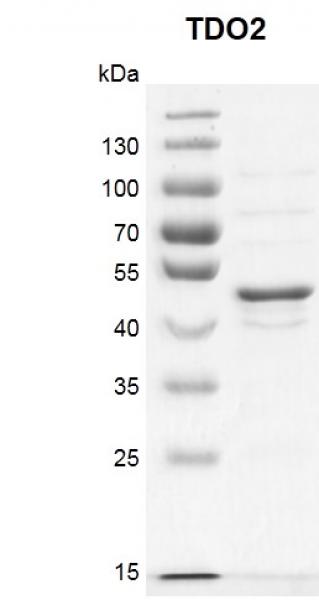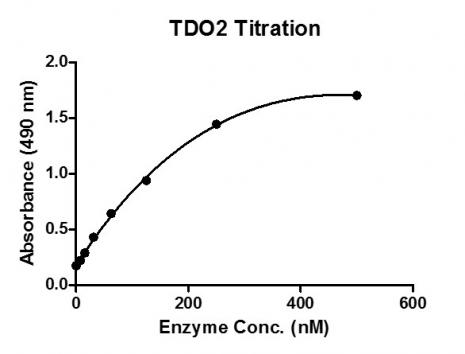 for Recombinant TDO2 protein

Storage

Recombinant proteins in solution are temperature sensitive and must be stored at -80°C to prevent degradation. Avoid repeated freeze/thaw cycles and keep on ice when not in storage.
for Recombinant TDO2 protein

Guarantee

This product is for research use only and is not for use in diagnostic procedures. This product is guaranteed for 6 months from date of arrival.