Recombinant Proteins & Enzymes

»
»
Recombinant SUV420H2 (2-281) protein
Recombinant SUV420H2 (2-281) protein
| | | | |
| --- | --- | --- | --- |
| Catalog No: 81014 | Format: 50 µg | $410 | Buy |
| Catalog No: 81714 | Format: 1 mg | $2,600 | Buy |
Expressed In:
E. coli
Protein Species:
Human
Request a quote for a bulk order
---
Contents
Recombinant SUV420H2 (2-281) protein is supplied in 25 mM Tris pH 8.0, 300 mM NaCl, 5% glycerol. Please refer to product insert upon arrival for lot-specific concentration.
Background
SUV420H2 (Suppressor Of Variegation 4-20 Homolog 2, also known as KMT5C) is a histone methyltransferase that specifically trimethylates nucleosomal histone H4 on lysine 20 (H4K20). H4K20me3 is a histone marker that represents epigenetic transcriptional repression. SUV420H2 mainly functions in pericentric heterochromatin regions, thereby playing a central role in the establishment of constitutive heterochromatin in these regions. SUV420H2 is targeted to histone H3 via its interaction with RB1 family proteins. 
Application Notes
Recombinant SUV420H2 (2-281) is suitable for use in the study of enzyme kinetics, inhibitor screening and selectivity profiling.

HMT Assay Conditions:Recombinant SUV420H2 (2-281) activity assay 2 ug Recombinant Nucleosomes (H3.1) (Cat. No. 31466) were incubated with 0 ug (-), 0.2 µg (+), 0.4 µg (++), 0.8 µg (+++) SUV420H2 (2-281) protein, respectively, in 30 µl reaction system containing 50 mM Tris-HCl, pH 8.6, 0.02% Triton X-100, 2 mM MgCl2, 1 mM TCEP, 50 µM SAM for 3 hr at room temperature. 6 µl reaction products were loaded and run on a 12.5% SDS-PAGE gel. Western Blot was used to detect the generation of reaction products (Anti-H4K20me3, Cat. No. 39672, 1:1000 dilution). SUV420H2 (2-281) only was used as negative control. H4 was used as loading control. 
Protein Details
Recombinant SUV420H2 (2-281) protein corresponding to amino acids 2-281 of SUV420H2 protein (accession number NP_116090.2) was expressed in E. coli cells and contains an N-terminal GST tag with a molecular weight of 58.1 kDa. Recombinant SUV420H2 (2-281) protein contains the SET domain of SUV420H2 that is responsible for methyltransferase activity.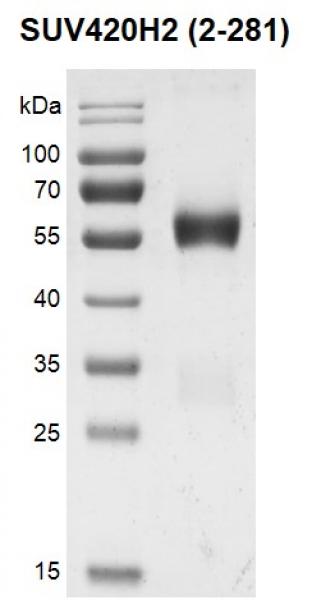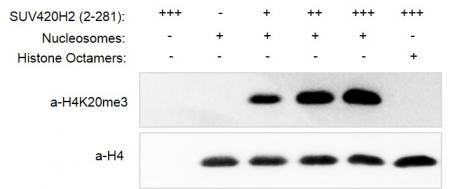 Storage
Recombinant proteins in solution are temperature sensitive and must be stored at -80°C to prevent degradation. Avoid repeated freeze/thaw cycles and keep on ice when not in storage.
Guarantee
This product is for research use only and is not for use in diagnostic procedures. This product is guaranteed for 6 months from date of arrival.
Technical Data Sheet
Recombinant SUV420H2 (2-281) protein
Data Thumbnails