ChIP Antibody Validation Services
validate antibodies for use in ChIP, ChIP-Seq & ChIP-chip
Our Epigenetic Services team specializes in performing ChIP-Seq and ChIP-chip. Because of the need for high-quality antibodies in order to achieve success in these techniques, we validate all antibodies internally before using them in genome-wide ChIP assays. To date, we have ChIP-qualified antibodies against more than 200 different targets. If your target of interest is on our list, we can start your project immediately. If it is not, or if you want to ChIP validate your own internally developed antibody, our Antibody Validation Service can give you an answer in as little as two weeks. Active Motif Epigenetic Services' offers antibody validation by ChIP-Seq and by ChIP-chip. Please contact us to find out which method is the most appropriate for your project.
To learn more, please give us a call or send us an Epigenetic Services Information Request. You can also download Active Motif's Epigenetic Services Profile.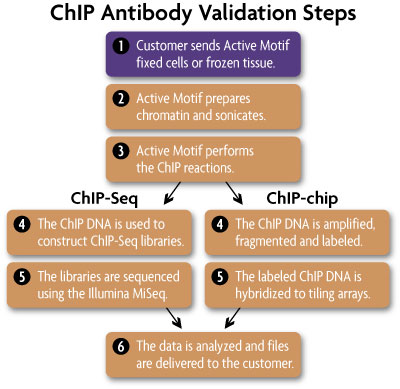 ChIP Antibody Validations Services.
Active Motif performs all steps of the ChIP experiment from chromatin preparation to data analysis, and provides an evaluation of the antibody's performance.
Antibody validation by ChIP-Seq
ChIP-Seq antibody validation is a small scale, ChIP-Seq reaction.
More robust and more sensitive than ChIP-chip
Sequencing performed on an Illumina MiSeq
3-4 week turnaround
Recommended when the antibody target is expected to be challenging
Antibody validation by ChIP-chip
ChIP-chip antibody validation is based on hybridization to an array.
Less expensive than ChIP-Seq
Hybridization to a single Affymetrix tiling array
2-3 week turnaround
Recommended when antibody performance is expected to be robust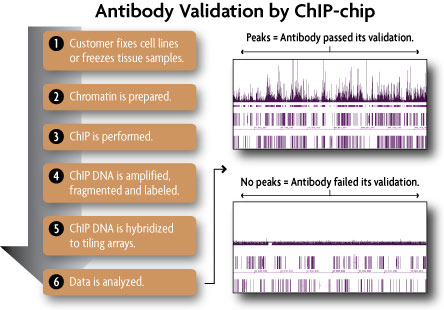 Use of ChIP-chip for antibody validation.