ChIP-Sequencing (ChIP-Seq)
combine chromatin IP with Next-Gen sequencing
Chromatin immunoprecipitation (ChIP) is a powerful tool for studying protein/DNA interactions. In ChIP-Seq, ChIP is combined with Next-Gen sequencing platforms such as the Illumina GA II or HiSeq to enable the generation of whole-genome data sets. Active Motif Epigenetic Services offers several different types of ChIP-Seq, in which ChIP is performed on different types of targets to answer different questions.
FactorPath™ – ChIP-Seq is performed on a transcription factor in order to discover, identify and quantitate transcription factor and cofactor binding sites across the genome
TranscriptionPath™ – RNA Pol II ChIP-Seq utilizes RNA Pol II antibody for the discovery and identification of actively transcribed genes at the DNA level, enabling the detection of genome-wide changes in gene expression without the limitations encountered when using RNA
HistonePath™ – ChIP-Seq is performed with an antibody directed against a modified histone protein to map the histone modification and/or enzymes that regulate the histone modification across the genome
MethylPath™ – MeDIP-Seq is used to discover, identify and quantitate methylated DNA regions; also includes our new 5-hmC MeDIP-Seq and Bisulfite Sequencing services
The ChIP-Seq Service includes
The customer submits purified DNA, frozen tissues or cell pellets, then we:
Prepare chromatin samples and sonicate.
Perform ChIP with a ChIP-qualified antibody.
Construct ChIP-Seq libraries.
Perform Next-Gen sequencing using the Illumina GA II or HiSeq.
Analyze the data and deliver it to the customer.
To learn more, please give us a call or send us an Epigenetic Services Information Request. You can also download Active Motif's Epigenetic Services Profile.
FactorPath™ ChIP-Seq Services
FactorPath ChIP-Seq can be used to map the binding of novel transcription factors, identify the consensus binding motifs of poorly characterized transcription factors and to map changes in the binding of transcription factors in response to drug treatments, in immune cells challenged with various pathogens, as well as in WT and KO models of important genes.
Figure 1: FactorPath™ ChIP-Seq maps MITF binding sites on chromosome 9.
---
HistonePath™ ChIP-Seq Services
HistonePath ChIP-Seq provides accurate, reproducible identification of histone modifications across the genome with high sensitivity and specificity. This enables you to identify tissue- or disease-specific histone modification patterns, novel histone modification biomarkers for disease onset and progression, and to correlate the modification state of histone proteins directly with expression profiles.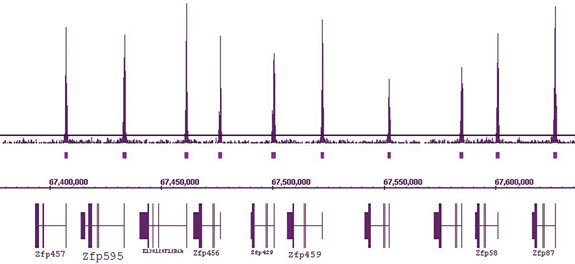 Figure 2: HistonePath™ ChIP-Seq reveals that H3K4me3 peaks are present at the start site of all Zfp genes.
Generating data is only half the battle in ChIP-Seq. When the sequencing is complete, tens of millions of short sequence tags must be mapped back to the genome followed by peak calling. Peak calling is complicated by the fact that different algorithms are required for accurate peak calling depending on the antibody used. Thousands to tens of thousands of binding sites must then be exported into a meaningful output that relates the data to genes and allows for multiple samples to be compared to one another. Challenges continue with clustering, heat maps and graphical representations of genome-wide localization patterns. This type of in-depth bioinformatics analysis is beyond the capabilities of most labs. That is why data analysis is part of the standard package for all of our ChIP-Seq Service projects.
Figure 3: Compilation of all genomic binding sites relative to gene transcription start sites (TSS).
The following papers cite the use of and/or provide additional information about ChIP-Seq Services provided by Active Motif's Epigenetic Services: