<< Back to MOTIFvations Blog Home Page
Celebrating International Day of Women and Girls in Science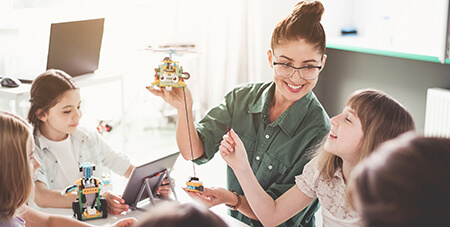 February 11, 2019
Scientists are playing critical roles in developing new technologies to solve the biggest challenges facing humankind. However, worldwide, the levels of participation in science and technology in school and in after-school education have fallen short of the expectations and the needs of business, industry, and government, especially for girls.
February 11th is the International Day of Women and Girls in Science, and Active Motif is proud to both celebrate our female colleagues here and contribute to the awareness that must be raised regarding increasing the roles of women in science. We still have a long journey ahead, but each step we take is important.
Focusing on Girls in Science
While science and technology are major contributors in today's global economy and are helping level the playing field among various demographics, young people, and particularly young girls, are turning away from science subjects.
Increasing the interest in science among young people is necessary to grow the number of future science professionals, as well as providing opportunities globally to understand and use science in everyone's daily lives.
To solve the problem of fewer children participating in science programs in school, we must first understand the underlying reasons.
To achieve sustainable development throughout the world, education policy makers also need to make STEM a high priority and allocate considerable resources to the teaching of science and technology in a manner that allows students to learn science in a way that is practiced by actual scientists and engineers. Furthermore, additional support is needed to increase and improve teacher training and professional learning for STEM educators.
By meeting these two needs, increasing the priority and funding of STEM education and improving the training of STEM educations, we can better accomplish the main goal of education the next generation of scientists, technologists, technicians, and leaders of whom future economic development will depend over a sustained period of time.
Active Motif is trying to help the problem of decreasing numbers of women and girls in science by providing some advice from some of our amazing women colleagues.
Dr. Felizza Gunderson on Female Leadership
A great way to build sustainable female leadership is through mentorship. Dr. Felizza Gunderson, Ph.D., the Epigenetics Services Manager at Active Motif shares her advice on career advancement.
Felizza completed her Ph.D. in 2010 at the University of California, San Diego, where she focused on the epigenetic regulation of RNA splicing in the yeast S. cerevisiae. She next went to Northwestern University in Chicago, where she focused on microbial pathogenesis.
"Expressing gratitude and approaching challenges with a positive attitude will differentiate you from others in any role you take on.", Felizza advises.
Dr. Kate Cunningham on Successful Career Transitions
Dr. Kate Cunningham, Ph.D.'s fiery passion for learning and endless curiosity of epigenetic mechanisms played key roles in her desire to be a scientist.
Kate completed her Ph.D. in 2013 at the Medical University of South Carolina, where she studied estrogen receptor-mediate regulation of cardiovascular biology. After completing graduate school, Kate successfully made the transition to working in the biotechnology industry and is now a Product Manager at Active Motif where she manages products and assays for chromatin and histone research.
In support of the International Day of Women and Girls in Science, she offers her advice on successful career transitions.
Be proactive and manage up. Employees that are self-motivated and make their boss' job easier are valuable.", Kate advises.
Research Associates Casidee McDonough and Raechel Subandi on Landing Your First Research Job
Since the International Day of Women and Girls in Science focuses on both women's current and future roles in STEM, we wanted to highlight some of our newest colleagues, Casidee McDonough and Raechel Subandi.
Casidee and Rachel are both Research Associates at Active Motif, and their position here is their first job after graduating college. They share their advice on staying motivated while looking for your first lab job after college.
Casidee advises that anyone looking for their first should "Be open to new possibilities and don't be afraid to take risks because those ones are the most worth it."
Raechel's advice is Don't give up! It's easy to get overwhelmed by the various positions out in the market and the ocean of competition to get a position you are targeting. But with perseverance and patience, I can guarantee that you will get a job!"
Professor Susan Gasser on What She Looks for in Grad Students and Postdocs
Expanding the discussion outside of Active Motif, we caught up with Dr. Susan Gasser, Ph.D. Professor Gasser is the Director of the Friedrich Miescher Institute for Biomedical Researcher in Basel, Switzerland and Professor at the University of Basel.
Dr. Gasser offers insights on the type of traits she looks for in Ph.D. candidates and postdoctoral researchers. "I really try to hire Ph.D. students and postdocs who can think independently.", says Professor Gasser.
Want to hear more about her incredible accomplishments? Check out our interview with Dr. Gasser on our epigenetics podcast.
Encourage the Girls in Your Life to Participate in Science!
Whitney Houston probably said it best in her song "Greatest Love Of All" when she sang "I believe the children are our future, teach them well, and let them lead the way."

We can all do our part to encourage the girls in our lives to participate in science and technology as part of their education. If the next generation of children is interested in and motivated by science, the whole world will benefit.
It's everyone's duty to make sure both girls and boys know that previous gender-based roles and limitations are going away, clearing the paths for great careers in high-tech, biotech, and other scientific areas.
While we are excited to celebrate women and girls in science today and every day, we look forward to a future in which the scientific community is thriving and advancing rapidly, and free from any gender, cultural, or geographical biases.
Happy International Day of Women and Girls in Science!
---
<< Back to MOTIFvations Blog Home Page