ReNucs™ are Recombinant Nucleosomes designed to contain specific histone post-translational modifications, amino acid substitutions and other modifications, delivering the most biologically relevant and powerful tools for development of novel drug targets and precision medicine. Developed in our own labs, each recombinant nucleosome is comprised of octamers of designer-modified core histone proteins (H2A, H2B, H3 and H4) bound by DNA. Active Motif currently offers the widest portfolio of pre-assembled Mononucleosome and Polynucleosome proteins available – and as the Epigenetics Experts, we continue to release newly designed ReNucs every month.
All of our recombinant nucleosomes are available in small scale and bulk quantities.
Request a Quote for a Bulk Order
---
View our flyer, for a complete listing of Recombinant Nucleosomes,
Mononucleosomes, Polynucleosomes, and related proteins.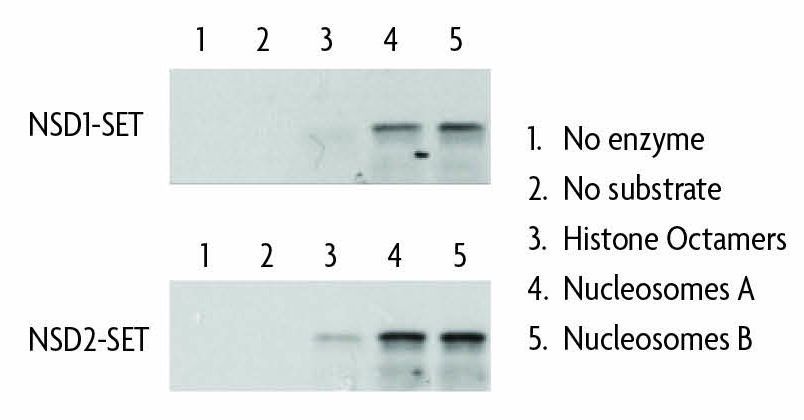 HMT activity assay comparing recombinant nucleosomes and histone octamers as substrates (click image to enlarge).
---
Whatever your application, ReNucs™ recombinant nucleosome proteins offer the most biologically relevant substrates when compared to histone proteins alone or synthetic peptides:
Mononucleosomes and Polynucleosomes available
Biotinylated nucleosomes for protein-nucleosome interaction studies and pull-down assays
Post-translational modifications – designed for optimal physiological relevance
Amino acid mutations – as published, these ReNucs most closely mimic naturally occurring nucleosomes in your own experimental design.
Coming Soon – Quadra-modified ReNucs, including four post-translational modifications in each nucleosome