KRAS In-well Lysis ELISA Kit Overview
The KRAS In-well Lysis ELISA Kit is designed specifically for high throughput quantification of KRAS activation and inhibition in cell lysates via chemiluminescent detection. By using a concentrated lysis buffer, cells can be lysed directly in 96-well cell culture plates without the requirement for intermediary steps like washing and centrifugation before transfer to the ELISA. Additionally, a highly specific human KRAS antibody is used to detect active KRAS without cross-reactivity with other isoforms. Finally, excess reagents are included to enable high throughput multichannel pipetting using reagent reservoirs and automated microplate washers.
The KRAS In-well ELISA Kit uses the unique binding properties of the RAS binding domain of the c-Raf kinase protein (Raf-RBD) which only binds activated (GTP bound) RAS proteins. A GST-fused, Raf-RBD protein is first bound to the 96-well glutathione-coated ELISA plate. Cells containing activated RAS can be lysed directly in culture wells using a concentrated 5X lysis buffer and then transferred directly to the ELISA plate where only activated RAS binds to the GST-Raf-RBD. Bound activated KRAS is then detected by incubation with a primary antibody that is highly specific for the KRAS isoform. Addition of a secondary antibody conjugated to horseradish peroxidase (HRP), followed by addition of developing solution provides a sensitive chemiluminescent readout that is easily quantified by luminescence.
KRAS In-well Lysis ELISA Kit Highlights
Fast – Concentrated lysis buffer allows for in-well lysis of cells directly in media, speeding up workflow.
Isoform Specific – Highly specific recombinant KRAS antibody detects activated human KRAS without cross reactivity from HRAS or NRAS.
HTP Friendly – Excess reagents are provided so they can be used with reagent reservoirs or automated microplate washers.
Versatile – Use the concentrated lysis buffer for the in-well lysis workflow or dilute the lysis buffer for use with washed cells. Additional 5X Lysis Binding Buffer is available separately.
Assay Input – Use with 2 x 104 - 32 x 104 seeded cells per well or with 5-50 µg whole cell extract.
Ras GTPase Background
Small GTPase RAS proteins bind to and hydrolyze GTP, allowing them to function as molecular switches, cycling between an active (GTP-bound) and inactive (GDP-bound) state. This switch regulates signal transduction pathways involved in cellular functions including proliferation, differentiation, and apoptosis. RAS proteins exist as three major isoforms: HRAS, NRAS, and KRAS, each containing about 190 amino acids that share 80-90% sequence identity.
RAS is one of the most frequently mutated genes in cancer. Gain-of-function missense mutations which promote oncogenesis cluster at codons 12, 13, and 61 of KRAS, NRAS and HRAS resulting in enhanced GTP binding due to fast exchange of nucleotide and/or impairment of GAP (GTPase Activating Protein) binding. Although RAS mutations are all activating, they vary in their oncogenic potential and frequency in different tissues, with KRAS mutations being the most prevalent. Because most researchers are looking for isoform specific therapeutics, the KRAS In-well ELISA Kit was designed to be highly specific for the KRAS isoform.
KRAS In-well Lysis ELISA Kit Contents
Each KRAS In-well Lysis ELISA Kit is shipped on dry ice and contains reagents requiring multiple storage temperatures. Please confirm receipt of all reagents upon arrival and store items at the appropriate temperatures as indicated below. The kit is guaranteed for 6 months when all components are stored properly.
| | Cat No. 52100 | Cat No. 52105 | Cat No. 52110 | Storage |
| --- | --- | --- | --- | --- |
| Reactions | 96 | 5 x 96 | | |
| GST-Raf-RBD | 110 µl | 5 x 110 µl | | -80°C |
| Positive Control Extract (AsPC-1) | 42 µl | 5 x 42 µl | | -80°C |
| Recombinant KRAS Antibody | 15 µl | 44 µl | | -20°C |
| Anti-rabbit HRP-conjugated IgG | 15 µl | 15 µl | | -20°C |
| Protease Inhibitor Cocktail (PIC) | 2 x 105 µl | 1.2 ml | 1.2 ml | -20°C |
| 5X Lysis Binding Buffer | 4 ml | 22 ml | 22 ml | 4°C |
| 10X Wash Buffer AM2 | 2 x 25 ml | 2 x 125 ml | | 4°C |
| 10X Antibody Binding Buffer AM2 | 2.5 ml | 12.5 ml | | 4°C |
| Chemiluminescent Reagent | 2 ml | 10 ml | | 4°C |
| Reaction Buffer | 4 ml | 20 ml | | 4°C |
| 96-well assay plate | 1 ea | 5 ea | | 4°C |
| Plate sealer | 2 ea | 10 ea | | 4°C |
KRAS In-well Lysis ELISA Kit Data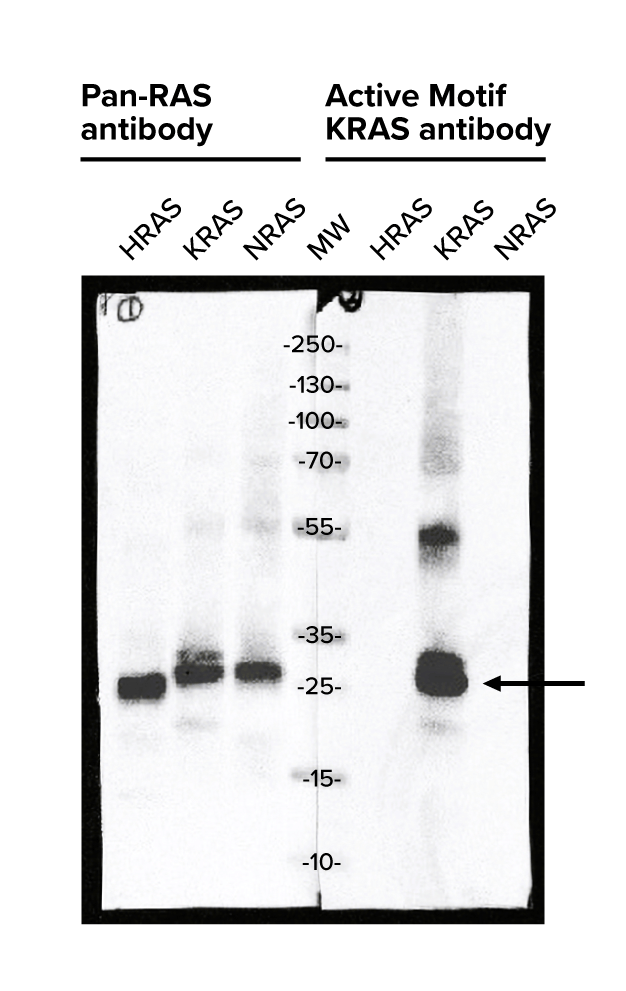 ---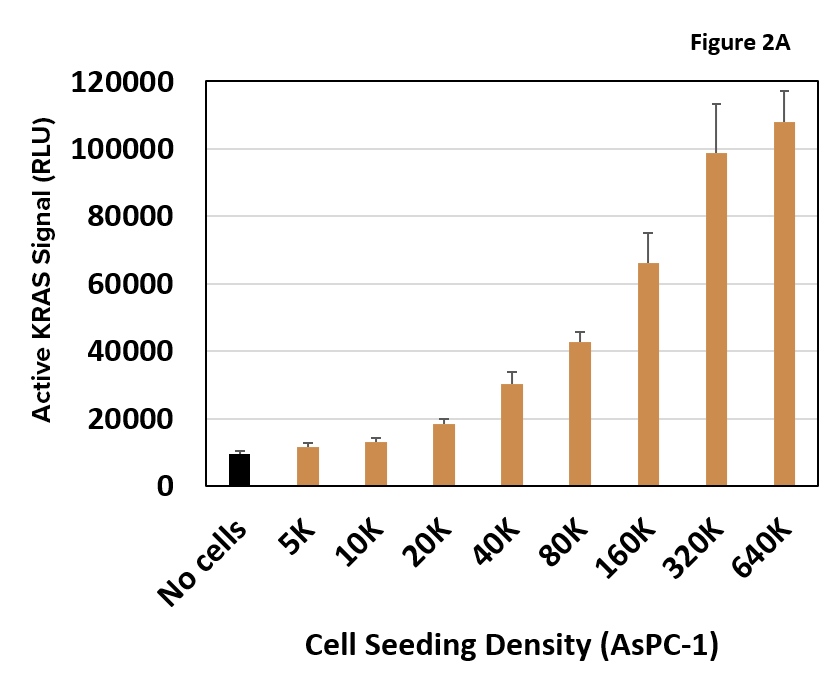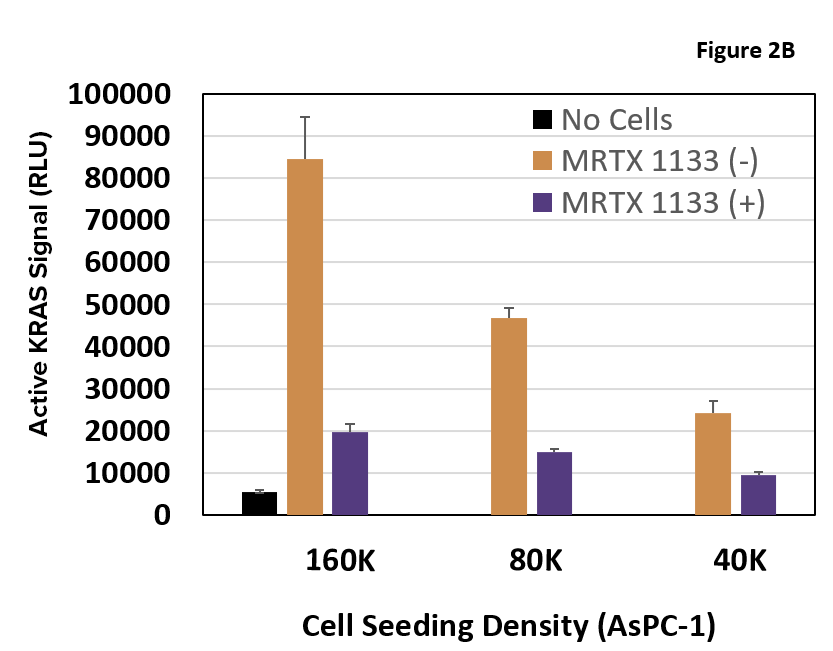 ---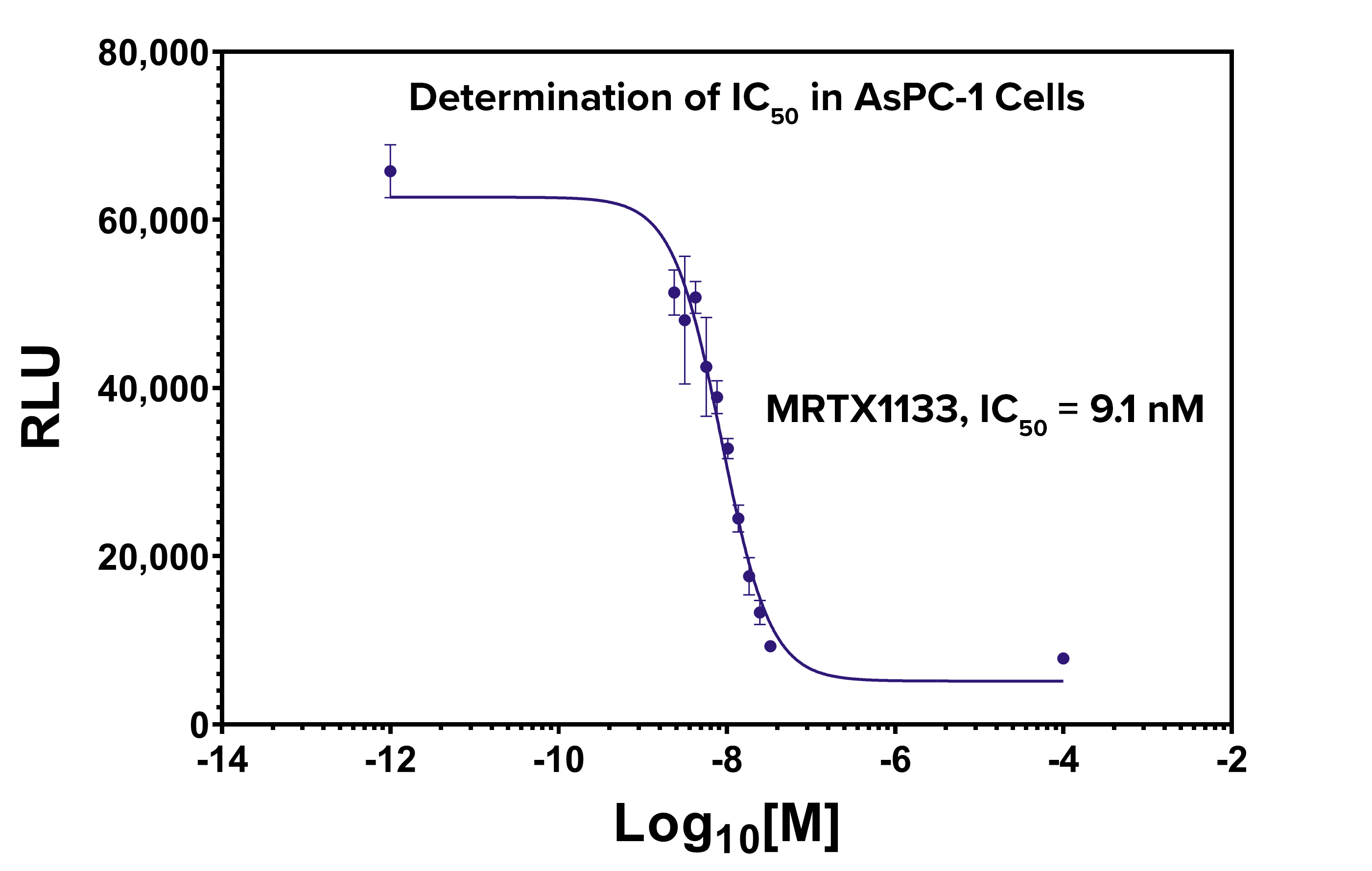 ---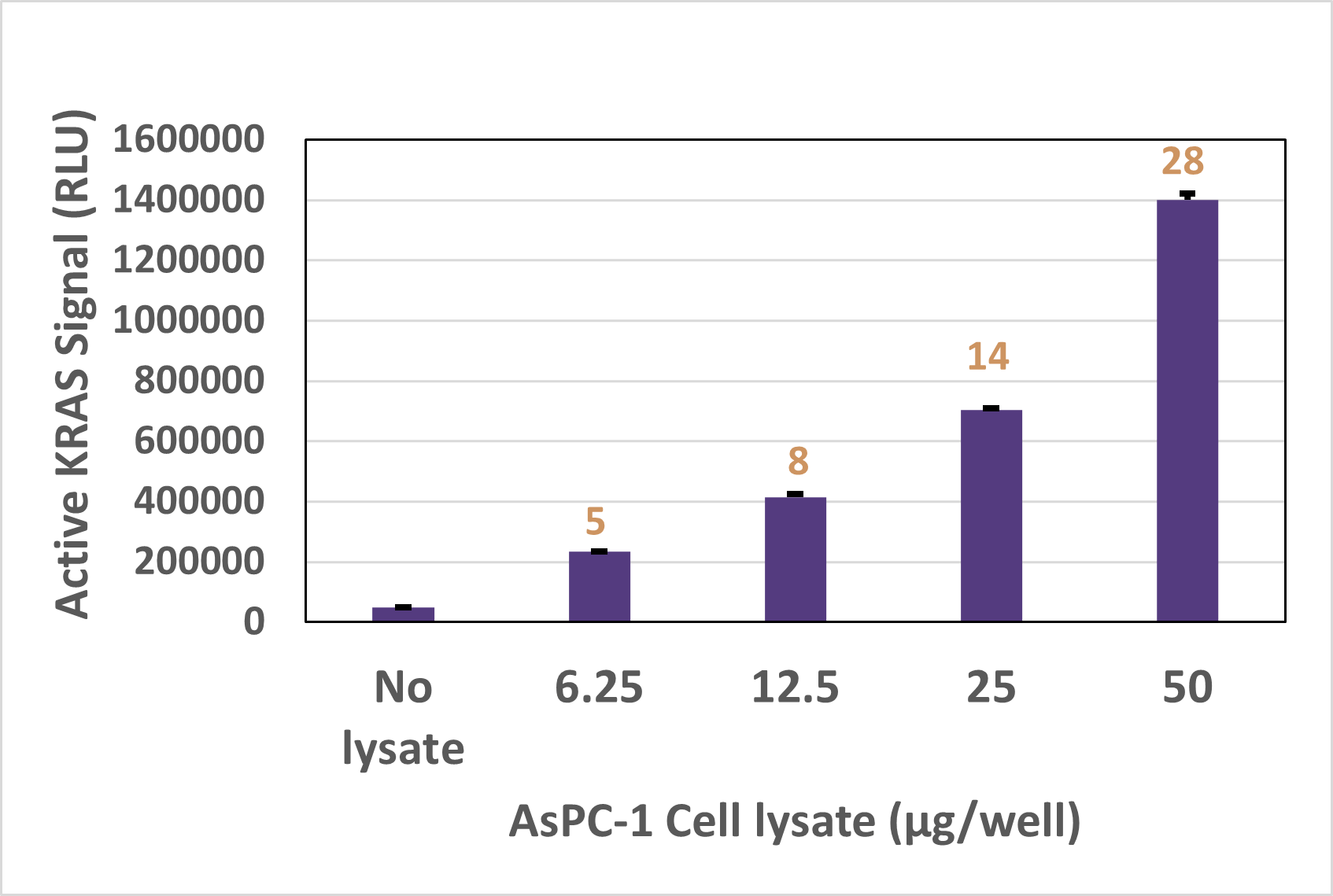 ---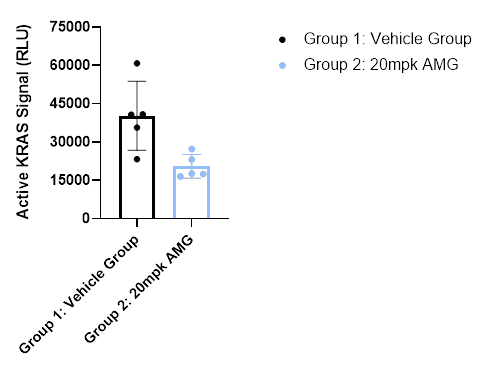 KRAS In-well Lysis ELISA Kit FAQs
Can I use frozen cells as starting material?
For best results, we recommend using fresh material as freeze-thawing the starting material may mask experimental effects. If a frozen sample is the only option, we recommend thawing and performing the homogenization step in the Complete Lysis Buffer. Whole cell extracts may be aliquoted and stored at -80°C. Avoid freeze/thaw cycles.
Does the KRAS antibody detect mutant forms of KRAS?
The recombinant KRAS antibody has been tested in the KRAS In-well Lysis ELISA using cell lysates from the AsPC-1 cell line, a pancreatic cancer line expressing the KRAS G12D mutant protein. The recombinant KRAS antibody was also tested and detected the recombinant KRAS G12C, Q61H mutant protein in Western blot. It is expected that it will work with all common active KRAS mutant proteins. However, not all mutations have been tested in the ELISA.
What controls can be used with the kit?
AsPC-1 cell extract is provided as a positive control for KRAS activation in the kit. Sufficient extract is supplied for 4 reactions per 96-well plate. This extract is optimized to give a strong signal (>10x assay window) when used with 10 µl/well.
KRAS In-well Lysis ELISA Kit Documents
You might also be interested in:
Name
Format
Cat No.
Price
KRAS In-well Lysis ELISA Kit
1 x 96 rxns
52100
$1,050
Buy
5 x 96 rxns
52105
$4,200
Buy
5X Lysis Binding Buffer
20 ml
52110
$375
Buy