ChIP-IT® Kits make performing chromatin immunoprecipitation (ChIP, chromatin IP) more successful by combining all of the critical components needed in a single kit. However, for researchers who routinely perform ChIP with their own optimized protocols, Active Motif is making it faster and easier to obtain consistency in chromatin preparation and improve the quality of the ChIP reactions with our low background Protein G magnetic or agarose beads and our ChIP-IT® Fixation Buffer.
Protein G Agarose Prepacked Columns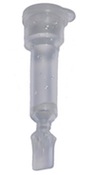 For researchers interested in streamlining their workflow, Active Motif offers Protein G Agarose Columns. These are ready-to-use ChIP columns that contain the same high affinity protein G agarose beads included in the ChIP-IT High Sensitivity® Kit. The beads have been specifically engineered to greatly reduce non-specific binding. The beads are pre-washed and loaded into filtration columns. Simply add the ChIP reaction to the columns and use the cap to seal. The incubation and wash steps are performed within the column to streamline the process and prevent any loss of material. The columns offer a faster solution to centrifugation and magnetic separation methods and result in better reproducibility between samples because no material is lost.
Protein G Agarose Beads
Alternatively, Protein G Agarose Beads are available without the columns. The beads have a binding capacity of 10 µg IgG/µl bead and are provided as a 50% slurry. Beads should be washed with TE, pH 8.0 prior to use in chromatin immunoprecipitation reactions.
ChIP-IT Fixation Buffer
Additionally, Active Motif has the ChIP-IT® Fixation Buffer available as a stand alone reagent. This specially formulated buffer can be used during the formaldehyde fixation step of chromatin preparation to help eliminate pH effects during chromatin preparation and provide better consistency among chromatin preparations, resulting in better ChIP results. Simply add formaldehyde to the ChIP-IT Fixation Buffer and add directly to the cell culture growth medium. Then proceed with the ChIP protocol of your choice.
Protein G Magnetic Beads
For researchers looking to use magnetic beads, Active Motif offers the ChIP-IT® Protein G Magnetic Beads. These are the same Protein G magnetic beads included in the ChIP-IT® Express Kits.
Name
Format
Cat No.
Price
Protein G Agarose Columns
30 rxns
53039
$395
Buy
5 rxns
53037
$95
Buy
Protein G Agarose Beads
1.2 ml
37499
$185
Buy
TE, pH 8.0
35 ml
37515
$125
Buy
ChIP-IT® Fixation Buffer
3 ml
53038
$95
Buy
ChIP-IT® Protein G Magnetic Beads
40 rxns
53033
$210
Buy
Contents & Storage
Protein G-coated magnetic beads contain enough beads for 25 ChIP reactions. Protein G Magnetic beads may be shipped on dry ice, but following their intial thaw, the beads should not be re-frozen. Upon receipt, store at 4°C.
Protein G agarose columns contain 30 µl of Protein G agarose beads per column and each kit includes 30 columns. The Protein G agarose columns are shipped on dry ice and can be stored at -20°C. Once columns have been thawed, they should not be re-frozen, but stored at 4°C.
ChIP-IT® Fixation Buffer is shipped at room temperature and can be stored at 4°C upon receipt.
All reagents are guaranteed stable for 6 months when stored properly.