MAXblock™ Blocking Medium
high-quality blocking reagent eliminates cross-reactivity
MAXblock™ Blocking Medium is a protein-based, non-mammalian blocking agent for use in immunofluorescence and immunostaining assays. Superior blocking is achieved utilizing a protein blend that demonstrates no cross-reactivity with secondary antibodies. It has been proven effective at blocking non-specific binding of antibodies in immunofluorescence, as well as in immunohistochemistry.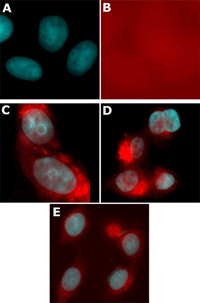 Figure 1: MAXblock blocking efficacy.
Get the exact immunofluorescence reagents you need
For your convenience, MAXblock is also offered as a component in the MAXpack™ Immunostaining Media Kit, which also contains MAXbind™ Staining Medium and MAXwash™ Washing Medium.