Sonication Products
reproducible sonication for more consistent results
Active Motif's PIXUL™ and EpiShear™ sonication products are ideal for shearing chromatin, DNA, RNA, and protein for use in chromatin immunoprecipitation (ChIP), DNA methylation studies, next-generation sequencing, and proteomics assays. They were designed to save you time and effort, and include features like arrayed transducers and fully programmable digital generators that give you the control needed to get the most reproducible results possible.
---
The PIXUL Multi-Sample Sonicator is the first and only multi-sample sonicator that delivers extremely consistent shearing of up to 96 samples processed in parallel and is fast, simple, and inexpensive to operate. PIXUL is compatible with simultaneous processing of 1-96 samples in parallel to avoid sample shearing bottlenecks in NGS applications. Furthermore, up to 12 unique sonication conditions can be run on a single 96-well plate, allowing simultaneous processing of multiple sample types and rapid optimization of conditions for difficult samples. Sonication is carried out in standard and inexpensive 96-well plates, keeping sample processing costs low, and lengthy water degassing steps are not required, saving time. More >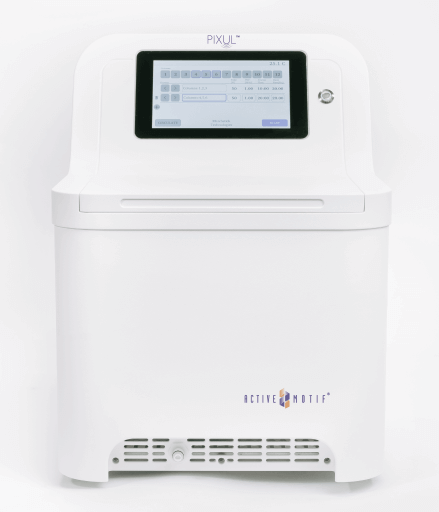 PIXUL™ Multi-Sample Sonicator
Pricing Information
---
The EpiShear Probe Sonicator offers you the flexibility to shear both small or large sample sizes. With the supplied 1/8" microtip probe, you can process samples from 500 µl to 15 ml. Other probes are available, which increase the range of samples that can be processed to 200 µl up to 50 ml.
A variety of accessories are available for use with the EpiShear Probe Sonicator, including different sizes of microtip probes, a sound enclosure to reduce noise, a converter stand for hands-free use, and a footswitch that makes it more convenient to deliver short pulses when using the unit in manual mode. More >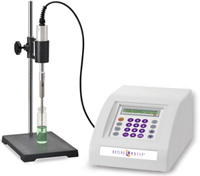 EpiShear™ Probe Sonicator with
support stand / converter clamp.
Pricing Information
---
The The EpiShear™ Cooled Sonication Platform greatly increases sample-to-sample reproducibility when shearing chromatin or DNA by enabling you to precisely position the sonicator probe at the exact same depth, in each sample, every time. Tube coolers that hold microfuge, 15 ml, and 50 ml tubes keep your samples cold during sonication, so you'll never again waste your time moving your samples to and from an ice bucket to protect them from heat build up. Each unit is also supplied in a sound enclosure to help reduce the noise of sonication. More >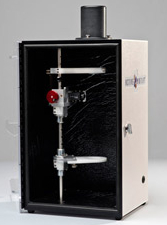 EpiShear™ Cooled Sonication Platform and sound enclosure.
Pricing Information