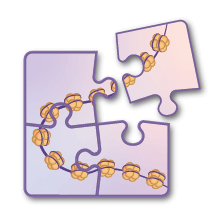 This service is not available at this time.
RIME (Rapid Immunoprecipitation Mass spectrometry of Endogenous proteins) is a recently developed technique ideally suited for the identification of transcriptional co-factors and chromatin associated proteins.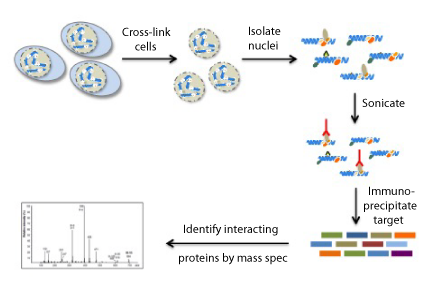 RIME was originally described in this Cell Reports publication.
What our customers are saying about us...
"We used Active Motif's RIME services several times and found their protocol to be reliable and reproducible. Expected interactors were detected robustly and specifically."
Till Adhikary, PhD
Phillips University
Marburg, Germany
View complete list of testimonials >
"I have ordered RIME/ChIP-MS services. Since the target antibody was first tested by the Antibody Validation Service, I felt confident in proceeding with the main test. The technical staff explained the data and were willing to repeatedly answer my questions. This service provided me with valuable information and helpful support from all the staff members at Active Motif."
Naoko Hattori, PhD
Staff Scientist
Division of Epigenomics,
National Cancer Center Research Institute,
Tokyo, Japan
The RIME Service includes:
Nuclear isolation and sonication.
Immunoprecipitation.
Purification of proteins and tryptic digestion.
Mass spectrometry.
Data analysis.
To learn more, please give us a call or send us an Epigenetic Services Information Request. You can also download Active Motif's Epigenetic Services Profile.

The RIME methodology was originally described in this Cell Reports publication.
With RIME, mass spectrometry is used, along with immunoprecipitation of a target protein, to detect endogenous-interacting proteins in formaldehyde cross-linked cells.
Advantages of cell cross-linking include:
Preserves bona fide interactions allowing for more stringent washes and minimizing the detection of non-specific interactions.
Captures low-affinity interactions that are typically lost during washing.
Captures adjacent DNA binding proteins that participate in gene regulation but do not function through direct interaction with the targeted protein.
Benefits of RIME include:
Identify transcriptional co-factors/co-regulators.
Identify proteins complexed with epigenetic modifiers.
Detect low-affinity interactions.
Map protein interaction networks.
Validate identified proteins by ChIP-Seq and map global co-occupancy with the RIME target protein.
Understand how co-factors participate in differential gene regulation.
Identify the prominent co-occurrence of transcription factor binding at adjacent sites.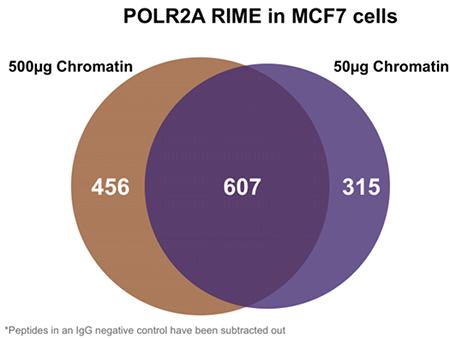 Figure 1: Venn Diagram of RIME treated MCF7 cells
---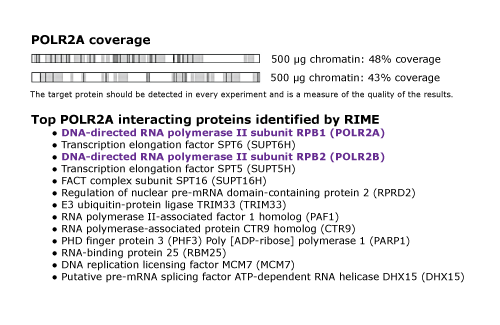 ---
---
Advanced Application: RIME and ChIP-Seq
RIME was performed using BRD4 as the target protein and from the list of interacting proteins. DNA Topoisomerase 2A was identified as an interactor, which is supported by literature demonstrating that ligand-dependent Topoisomerases have been shown to be recruited to enhancers†. Therefore, ChIP-Seq targeting BRD4 and TOP2A was performed to show co-localization. Expanding on RIME data with ChIP-Seq can help elucidate gene subsets that require different transcription factors or confirm co-localization of RIME-identified co-factors to the same genes.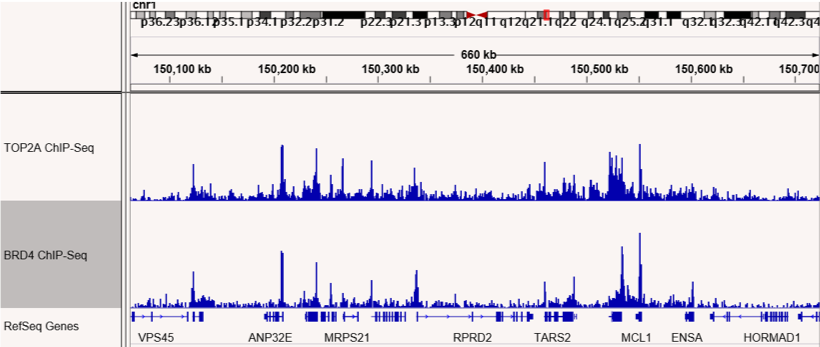 Figures 1 & 2: ChIP-Seq shows co-localization of TOP2A and BRD4 binding sites.
References
Search our database of customer publications that have used our RIME services.
---