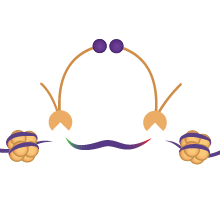 ATAC-Seq is based on transposase-mediated insertion of sequencing primers into open chromatin regions. This assay provides genome-wide profiles of open and accessible regions of chromatin that are indicative of active regulatory regions.
Why study Open Chromatin?
Gain mechanistic insight into gene regulation, cellular response to treatment or disease
Identify which transcription factors are driving cell fate, disease, or response
Primary tissues or cells such as pancreatic Beta cells
Limited patient samples
Stratify patients or sample groups based on open chromatin signatures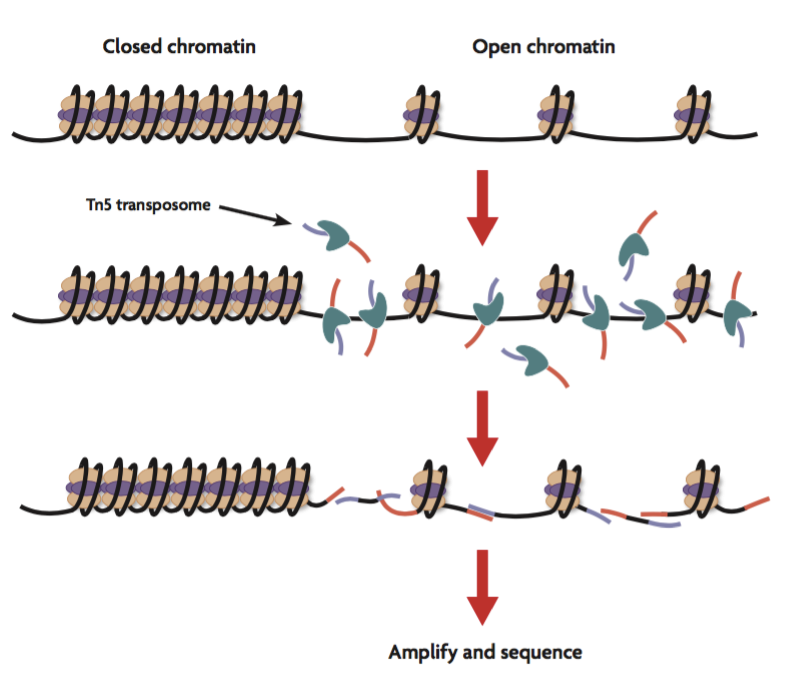 ATAC-Seq can be a good alternative to ChIP-Seq if it is unknown whether epigenetics plays a role in the response of your cell system, if it is unclear which histone modification is the most important to study using ChIP-Seq or when cell numbers are limited.
The ATAC-Seq assay includes:
Cell preparation
Transposase reaction
Library amplification
Sequencing on an Illumina platform
Bioinformatic analysis
Sample Types
Active Motif's services team is the only group routinely generating ATAC-Seq data from tissues. Active Motif will accept the following sample types for this service:
Human and animal tissues (including xenografts and human biopsies)
Primary cells (including T and B cells)
FACS sorted cells
Most rare cell populations
Sample Submission Portal
Our online sample submission portal allows you to easily upload your service project samples and track your project status. Follow the sample submission instructions in the portal to ensure that all your samples arrive at Active Motif in the best possible condition and properly associated with your project.
To learn more, send us an Epigenetic Services Information Request. You can also download Active Motif's Epigenetic Services Brochure.
What our customers are saying about us:
"I am studying the epigenetic regulation of heart failure. I have had a very good experience with Active Motif Epigenetic services and I will continue research with Active Motif in the future. I received good support from both the Sales Department and the Tech Support Team to help me to go through all the aspects of the service."
Ning Feng, MD, PhD
University of Pittsburgh
View complete list of testimonials >

Name
Cat No.
Price
ATAC-Seq Service
25079
Get Quote
ATAC-Seq Quality Measures
There are multiple ways to assess the quality of an ATAC-Seq data set. The two that are considered the most important are FRiP Score and Peak Number.
FRiP Score: Fraction of Reads in Peaks is the percentage of reads that overlap within called peaks. It is a measure of the enrichment of open regions and can also be considered as a measure of signal-to-noise, with signal being reads that map in peaks and noise being reads that map outside of peaks. FRiP scores will vary depending on cell type. FRiP scores of >30% are a good indication of success. However, lower FRiP scores are acceptable in more difficult samples as long as there is consistency across those samples.
Peak Number: Number of peaks identified in an ATAC-Seq data set. Data repository consortia like ENCODE recommend that data sets have more than 50,000 peaks identified. This however varies depending on the cell type, tissue and health of cells.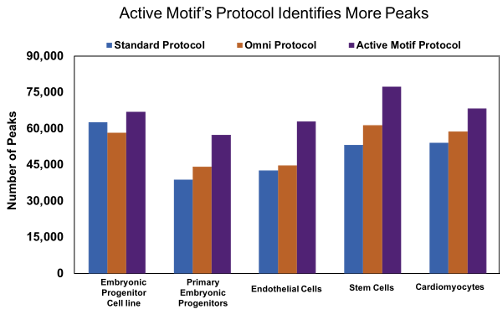 References for ATAC-Seq & Omni ATAC-Seq publications
Search our database of customer publications that have used our ATAC-Seq services.
---