Novel Epigenetics Technology for High-Throughput Processing of Limited Samples to Study Cancer Using Cavitation-based Pixelated Ultrasound and Tagmentation-indexing ChIP-Seq
This poster was presented at AACR 2023 and describes two novel technologies. One workflow applies pixelated ultrasound to enable sample preparation critical to a range of downstream applications. The second method presented is our new Tagmented, Indexed and Pooled ChIP-Seq (TIP-ChIP), a novel epigenetics assay to achieve high-throughput, multi-mark ChIP-Seq.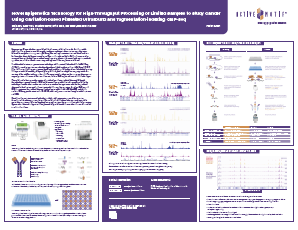 Please note: The submission form below may not display on all browsers. For best results, we recommend using Chrome or Safari as your web browser. If you are having problems accessing the form, please contact technical support.