View Pricing & Ordering Information
Who Studies HDACs?
HDACs, histone deacetylases, remove acetyl groups from lysine residues contained in both histone and non-histone proteins. HDACs act in direct opposition to histone acetylases (HATs). The balance of HDAC and HAT activity determines the acetylation state of lysines on proteins throughout the cell. These acetyl groups affect chromatin structure, protein stability, protein-protein interactions, gene regulation, and more. Disease models that exhibit open chromatin transitioning to closed chromatin, increased protein degradation, differential protein interacting partners, or simply show differences in gene expression, are all candidates for HDAC analysis.
How Do the Kits Work?
HDAC Assay Kits are an easy and sensitive way to determine HDAC activity in your samples (e.g. disease vs. normal, HDACi drug screens, purified HDAC enzymes). This assay utilizes a short peptide substrate that contains acetylated lysine residues. Once the residue is deacetylated, the lysine residue interacts with the developing solution to produce a signal. Kits also include positive control HeLa nuclear extract, deacetylated HDAC assay standard, HDAC peptide substrate, and Trichostatin A as a model inhibitor. Our 96-well plate format is available in both colorimetric and fluorescent formats to suit your needs.
HDAC Assay Kits Are Compatible with Multiple Sample Types:
Nuclear extracts, such as those prepared using Active Motif's Nuclear Extract Kit
HDACs immunoprecipitated from whole-cell or nuclear extracts (be sure to immunoprecipitate with an antibody that will specifically bind to your HDAC, but does not interfere with the activity of the HDAC enzyme)
HDAC Assay Advantages
Easy and sensitive 1 hour assay
Readily compatible with HDAC Class I, IIB, and IV enzymes (and easily adapted for Class III Sirtuins)
Can be used with purified HDAC enzyme, nuclear extracts, or immunoprecipitated HDACs
Available in colorimetric or fluorometric formats
To learn more about our HDAC Assay Kits, click on the Data or Contents tabs below. To view a manual or other related documents, click on the Documents tab below.
| Name | Format | Cat No. | Price | |
| --- | --- | --- | --- | --- |
| HDAC Assay Kit (Fluorescent) | 1 x 96 rxns | 56200 | $500 | Buy |
| HDAC Assay Kit (Colorimetric) | 1 x 96 rxns | 56210 | $465 | Buy |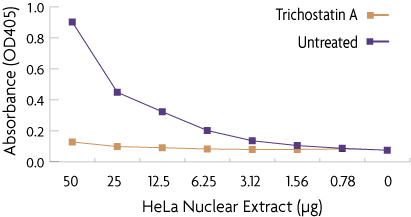 Contents & Storage
HDAC Assay Buffer, HDAC Substrate, HDAC Assay Standard, Trichostatin A, HDAC Developer Solution, HeLa Nuclear Extract, 96-well half-volume plate. HeLa Nuclear Extract is to be stored at -80°C. Store all other components at -20°C. All reagents are guaranteed stable for 6 months from date of receipt when stored properly.