Ras GTPase Chemi ELISA Kit
fast, sensitive analysis of activated Ras GTPase
Active Motif's Ras GTPase Chemi ELISA Kit is the first ELISA-based kit designed to detect and quantify activated Ras GTPase. Because of its ELISA format, it is much more sensitive than pull-down/Western methods. This enables the detection of low levels of protein, while also using less sample. In addition, ELISAs are more quantitative than Westerns, and they eliminate the need to run and develop gels.
Ras GTPase Chemi ELISA advantages
More sensitive – assay uses only 25 µg of extract, which is 20-fold less than pull-down/Western methods
Better results – quantitative readouts make it easier to compare results
Less effort – no need to run gels or develop Western blots
Save time – results in less than 5 hours
Versatile – assay activated extracts from cells or tissue samples, or study recombinant Ras protein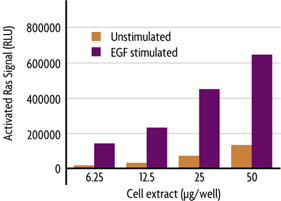 Figure 1: Quantification of activated Ras in stimulated HeLa cells.
Small GTPases, also known as GTP-binding proteins, are a family of enzymes that serve as molecular switches in regulating a number of signal transduction pathways including cellular growth, apoptosis and differentiation. These switches regulate by alternating between active (GTP-bound) and inactive (GDB-bound) states. Ras GTPase is of particular interest as aberrant regulation by Ras has been implicated in a number of disease states.
The Ras GTPase Chemi ELISA method
Because activated Ras binds specifically to the Ras-binding domain (RBD) of Raf effector protein, Raf-RBD can be used as a probe to isolate Ras-GTP. The Ras GTPase Chemi ELISA Kit contains a Raf-RBD protein that is fused to GST and a 96-well, glutathione-coated assay plate. GST-Raf-RBD is first incubated on the plate for one hour to immobilize the capture probe. Addition of sample to the plate results in the binding of activated Ras to the Raf-RBD. A primary antibody specific for Ras is then added to the individual wells, followed by an HRP-conjugated secondary antibody and developing reagent. The plate is then read on a luminometer, which provides a sensitive and quantitative chemiluminescent readout of activated Ras.
Figure 1: Flow chart of the Ras GTPase Chemi ELISA Kit process.
Contents & Storage
96-well glutathione-coated assay plate with plate sealer, GST-Raf-RBD, primary antibody, HRP-conjugated secondary antibody, positive control cell extract, Protease Inhibitor Cocktail, Lysis and Reaction buffers. Reagent storage conditions vary from room temperature to -80°C, see manual for details. All reagents are guaranteed stable for 6 months when stored properly.