High Throughput ChIP-IT® Kit Overview
The High Throughput ChIP-IT® Kit provides an optimized protocol and all the reagents needed to perform ChIP assays for histone modifications for transcription factors from 24 cell or tissue samples, yielding qPCR- or next-generation sequencing-ready samples with much less hands-on time than traditional methods.
This kit is designed to work with chromatin sheared with the PIXUL® Multi-Sample Sonicator to give a robust, streamlined workflow compatible with processing multiple samples as efficiently as possible.
The kit works with chromatin samples prepared by other methods as well. Simply dilute your samples with the 5X ChIP Buffer provided in the kit and they are ready for High Throughput ChIP-IT® processing.
High Throughput ChIP-IT® Kit Advantages
Optimized protocol and reagents ensure efficient results
Streamlined workflow reduces both total time and hands-on time relative to traditional ChIP protocols
Low chromatin input required, 70 ng (10,000 cell equivalents) for histone ChIP, 333 ng (50,000 cells) for transcription factor ChIP
Optimized reverse-crosslinking step in only 2 hours
High Throughput ChIP-IT® Kit Contents
The kit contains sufficient reagents for 24 ChIP reactions. The reagents in the kit have multiple storage temperatures. Please store components accordingly. All reagents are guaranteed stable for 6 months from date of receipt when stored properly. Do not re-freeze Protein G Magnetic Beads.
Protein G Magnetic Beads; Store at 4°C
TE, pH 8.0; Store at RT
Protease Inhibitor Cocktail; Store at -20°C
Blocking Agent AM1; Store at -20°C
BSA (10 mg/mL); Store at -20°C
5X ChIP Buffer; Store at RT
ChIP Buffer; Store at RT
Blocker; Store at -20°C
Wash Buffer AM1; Store at RT
LiCl Buffer; Store at RT
Elution Buffer AM4; Store at RT
Proteinase K (10 µg/µL); Store at -20°C
RNase A (10 µg/µL); Store at -20°C
Low EDTA TE; Store at RT
SPRI Beads; Store at 4°C
Bar Magnet and Glue Dots; Store at RT
High Throughput ChIP-IT® Kit Data

---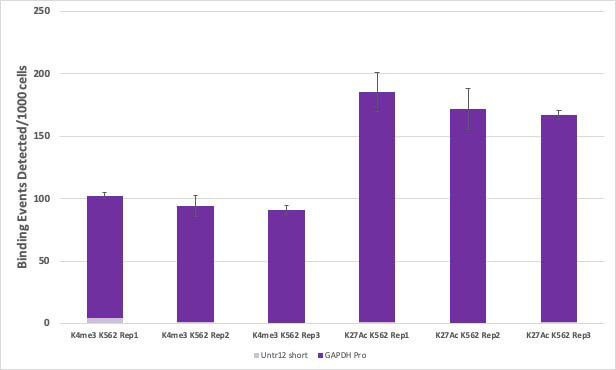 High Throughput ChIP-IT® Kit Documents
You might also be interested in:
| Name | Format | Cat No. | Price | |
| --- | --- | --- | --- | --- |
| High Throughput ChIP-IT® | 1 x 24 rxns | 53146 | $895 | Buy |