Gene Regulation
TransAM® NFκB Activation Assays | Colorimetric Kits

»
»
»
»
TransAM® NFκB Activation Assays | Colorimetric Kits
TransAM® NFκB Activation Assays | Colorimetric Kits
DNA-binding ELISA kits for studying activity of NFkB family members p50, p52, p65, c-Rel, and RelB
View Pricing & Ordering Information
NFκB Introduction & Background
Nuclear Factor κB (NFκB) is an important transcription factor complex that plays critical roles in regulating the expression of many genes in cells, including pathways that control the immune response, inflammation, development, cellular growth, and apoptosis. When NFκB is misregulated it can lead to many different disease states, including multiple types of cancer, neurodegenerative diseases, heart diseases, and inflammation. These disorders are usually due to overactive NFκB complexes, which highlights the importance of being able quickly, accurately, and reliably measure its activity in samples.
Using TransAM DNA-Binding ELISAs to Measure NFκB Activity
TransAM NFκB kits are DNA-binding ELISAs that provide everything needed to study NFκB in biological samples, including a positive control extract. These assays are available with antibodies specific for the activated form of p50, p52, and p65. A family kit is also available with the ability to screen the members of the NFκB family (p50, p52, p65, c-Rel, and RelB).
The kit manual and other important documents can be downloaded from the Documents tab below.
Recombinant p50
and
Recombinant p65
proteins are available separately to generate an optional protein standard curve in the TransAM NFκB Transcription Factor ELISA kits.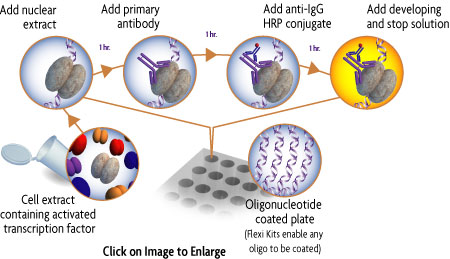 Read more about the TransAM transcription factor activity assay system >>
View Pricing & Ordering Information
---
TransAM NF-kB Family Kit Data
TransAM NFκB Assay is More Sensitive than a Gel Shift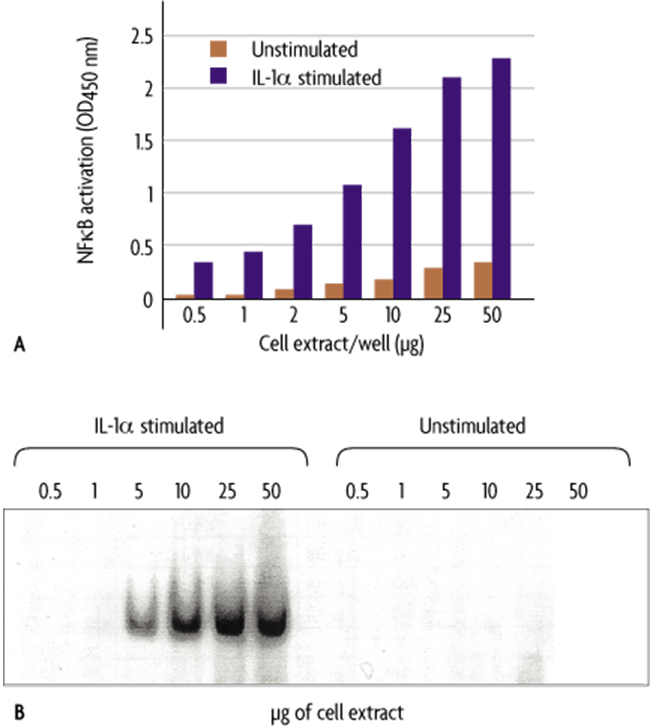 NFκB Family Profiling in Multiple Cell Lines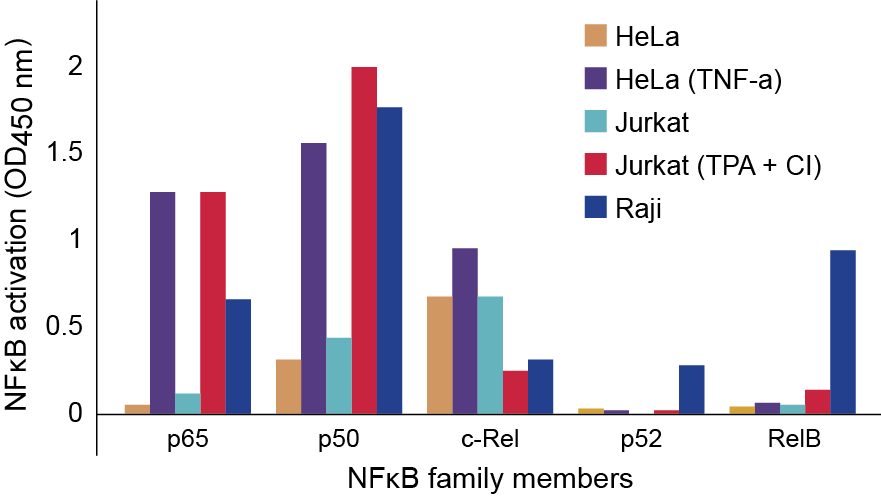 ---
TransAM NF-kB Family Kit Contents & Storage
Kit components: One, two or five NFκB 96-well assay plate(s) with plate sealer(s), NFκB p50, p52 or p65 or p50, p52, p65, c-Rel and RelB primary antibody(ies), HRP-conjugated secondary antibody, NFκB wild-type and mutated oligonucleotides, positive control cell extract, DTT, Protease Inhibitor Cocktail, Herring Sperm DNA, Lysis, Binding, 10X Washing and 10X Antibody Binding Buffers, and Developing & Stop Solutions.
Kit storage: Reagent storage conditions vary from room temperature to -80°C, see manual for details. All reagents are guaranteed stable for 6 months when stored properly.
NOTE: the p50 and p52 antibodies can be used with human and mouse extracts, while the p65 and RelB antibodies can be used with human, mouse, and rat extracts. The c-Rel antibody can only be used with human extracts.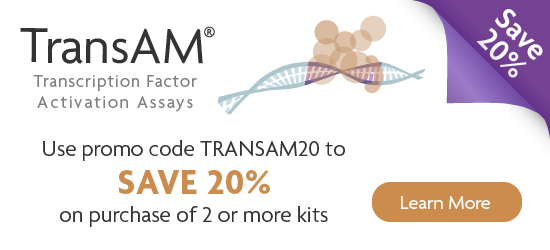 TransAM NFκB Family: Catalog Number 43296
TransAM NFκB p50: Catalog Number 41096
TransAM NFκB p50: Catalog Number 41596
TransAM NFκB p52: Catalog Number 48196
TransAM NFκB p52: Catalog Number 48696
TransAM NFκB p65: Catalog Number 40096
TransAM NFκB p65: Catalog Number 40596