Epigenetics & Chromatin

TM-2-51
Aliases: 1-Benzoyl-3-phenyl-2-thiourea
| | | | |
| --- | --- | --- | --- |
| Catalog No: 14096 | Format: 50 mg | $205 | Buy |
| Catalog No: 14097 | Format: 10 mg | $60 | Buy |
Application: Histone Acetylation (HAT & HDAC)
Chemical Properties
MW = 256.3
C14H12N2OS
CAS 4921-82-8
>98% (TLC); NMR (Conforms)
Description
Highly potent and isozyme selective activator of recombinant HDAC8. Increases the activity of HDAC8 by a factor of 12 at 10 µM (ref1). No activation of other HDACs is observed. Rescues the activity of catalytically compromised HDAC8 mutants in vitro (ref2).
Contents
Beige powder. May be dissolved in DMSO (50 mg/ml); Ethanol (8 mg/ml).
Storage Conditions
Store desiccated as supplied at -20°C for up to 2 years. Store solutions at -20°C for up to 3 months.
References
1. RK Singh et al. Bioorg. Med. Chem. Lett. 2011, 21:5920
2. C Decroos et al. ACS Chem. Biol. 2014, 9:2157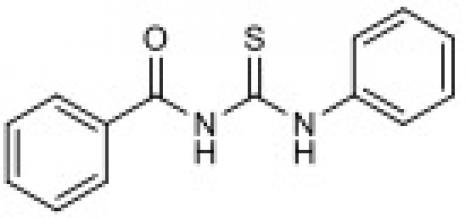 Technical Data Sheet
TM-2-51
Data Thumbnails