Recombinant PIK3R1 protein
| | | | |
| --- | --- | --- | --- |
| Catalog No: 81097 | Format: 20 µg | $360 | Buy |
| Catalog No: 81897 | Format: 1 mg | $3,660 | Buy |
---
Expressed In:
Baculovirus
Protein Species:
Human
---
Contents
A representative Technical Data Sheet (TDS) is provided here. Please refer to the lot-specific TDS you will receive with your order for the lot-specific buffer contents and protein concentration.
Background
PIK3R1 (Phosphoinositide-3-Kinase Regulatory Subunit 1), also known as GRB1, p85-ALPHA or p85, is a regulatory subunit of phosphatidylinositol 3-kinase. It can bind to activated (phosphorylated) protein-Tyr kinases, through its SH2 domain, and acts as an adapter, mediating the association of the p110 catalytic unit to the plasma membrane. It is necessary for the insulin-stimulated increase in glucose uptake and glycogen synthesis in insulin-sensitive tissues. And it plays an important role in signaling in response to FGFR1, FGFR2, FGFR3, FGFR4, KITLG/SCF, KIT, PDGFRA and PDGFRB, likewise, plays a role in ITGB2 signaling. PIK3R1 also modulates the cellular response to ER stress by promoting nuclear translocation of XBP1 isoform 2 in a ER stress-and/or insulin-dependent manner during metabolic overloading in the liver and hence plays a role in glucose tolerance improvement.
Application Notes
This product was manufactured as described in Protein Details. Where possible, Active Motif has developed functional or activity assays for recombinant proteins. Additional characterization such as enzyme kinetic activity assays, inhibitor screening or other biological activity assays may not have been performed for every product. All available data for a given product is shown on the lot-specific Technical Data Sheet.
Protein Details
Recombinant human PIK3R1 protein was expressed in a baculovirus expression system as the full length protein (accession number NP_852664.1) with an N-terminal FLAG tag. The molecular weight of the protein is 84.9 kDa.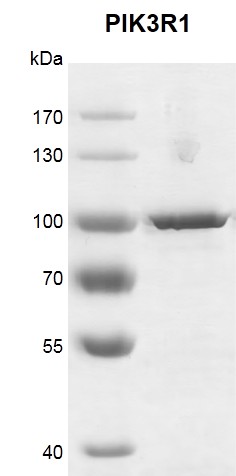 Storage
Recombinant proteins in solution are temperature sensitive and must be stored at -80°C to prevent degradation. Avoid repeated freeze/thaw cycles and keep on ice when not in storage.
Guarantee
This product is for research use only and is not for use in diagnostic procedures. This product is guaranteed for 6 months from date of arrival.
Technical Data Sheet
Recombinant PIK3R1 protein
Data Thumbnails