TransAM® HIF-1
dna-binding ELISA for activated HIF-1 transcription factor
TransAM® Kits are DNA-binding ELISAs that facilitate the study of transcription factor activation in mammalian tissue and cell extracts. Assays are available for over 40 different targets (see the list at right). Each kit includes a 96-stripwell plate in which multiple copies of a specific double-stranded oligonucleotide have been immobilized. When nuclear or whole-cell extract is added, activated transcription factor of interest binds the oligonucleotide at its consensus binding site and is quantified using the included antibody, which is specific for the bound, active form of the transcription factor being studied. For complete details, click the TransAM® Method tab below.
TransAM® HIF-1 Transcription Factor ELISA Kits
TransAM HIF-1 Kits provide everything needed to study activated Hypoxia Inducible Factor 1 alpha (HIF-1 alpha), including a positive control extract. The HIF-1 kit detects HIF-1 alpha in human and monkey samples. Click the HIF-1 Info tab below for data and more information; kit manuals can be downloaded under the Documents tab.
HIF-1 Transcription Factor Info
The transcription factor Hypoxia-Inducible Factor 1 (HIF-1) is one of the key regulators of oxygen homeostasis. It regulates the physiological responses to low oxygen levels (hypoxia) and the pathophysiology of heart attack, cancer, stroke and chronic lung disease. HIF-1 is a heterodimeric protein that consists of two subunits, HIF-1α and HIF-1β Whereas HIF-1β is constitutively expressed, the expression of HIF-1α is induced by oxygen concentrations below 6%. HIF heterodimers bind to the hypoxia response element (HRE), a 5´-RCGTG-3´ consensus sequence. Several dozen HIF-1-regulated genes have been identified so far, including genes coding for proteins involved in angiogenesis, energy metabolism, erythropoiesis, cell proliferation and viability, vascular remodeling and vasomotor responses.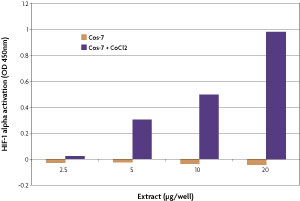 Figure 1: Measurement of HIF-1α.
The TransAM® transcription factor ELISA advantage
Historically, transcription factor studies have been conducted using gelshift, Western blot and reporter plasmid transfections, which are time-consuming, do not allow for high-throughput and provide only semi-quantitative results. TransAM assays are up to 100 times more sensitive than gelshift techniques, and can be completed in less than 5 hours. Because TransAM is an ELISA-based assay*, there is no radioactivity, and the high-throughput stripwell format enables simultaneous screening of 1-96 samples. Inconsistencies due to variable reporter plasmid transfections are eliminated, along with the need to construct stable cell lines.
Why use TransAM® transcription factor ELISAs?
Up to 100-fold more sensitive than gelshift assays
Eliminates the use of radioactivity and the need to run gels
Results in less than five hours
Colorimetric readout enables easy, quantitative analysis with spectrophotometry at 450 nm
96-stripwell format enables both high and low throughput
How TransAM® transcription factor ELISAs work
The TransAM format is perfect for assaying transcription factor binding to a consensus-binding site. TransAM Kits contain a 96-stripwell plate to which the consensus-binding site oligo has been immobilized. Activated nuclear extract is added to each well and the transcription factor of interest binds specifically to this bound oligonucleotide. A primary antibody specific for an epitope on the bound and active form of the transcription factor is then added followed by subsequent incubation with secondary antibody and Developing Solution to provide an easily quantified, sensitive colorimetric readout (Figure 1).

Figure 1: Flow chart of the TransAM process.
Contents & Storage
Each TransAM HIF-1 Kit contains HIF-1α primary antibody, HRP-conjugated secondary antibody, HIF-1 wild-type and mutated oligonucleotides, COS-7 nuclear extract (positive control), Dithiothreitol, Protease Inhibitor Cocktail, Herring Sperm DNA, Lysis Buffer, Binding Buffer, 10X Washing Buffer, 10X Antibody Binding Buffer, Developing Solution, Stop Solution and one or five HIF-1 96-well assay plate(s) with plate sealer(s). Reagent storage conditions vary from room temperature to -80°C, see manual for details. All reagents are guaranteed stable for 6 months when stored properly.
TransAM HIF-1: Catalog Number 47096
TransAM HIF-1: Catalog Number 47596