Recombinant SMYD3 protein
Aliases: KMT3E; ZMYND1; ZNFN3A1; bA74P14.1
| | | | |
| --- | --- | --- | --- |
| Catalog No: 31407 | Format: 20 µg | $405 | Buy Now |
Expressed In:
Baculovirus
Protein Species:
Human
Request a quote for a bulk order
---
for Recombinant SMYD3 protein

Contents

Recombinant SMYD3 protein is supplied in 25 mM HEPES-NaOH pH 7.5, 300 mM NaCl, 5% glycerol, 0.04% Triton X-100, 0.2 mM TCEP. Please refer to product insert upon arrival for lot-specific concentration.
for Recombinant SMYD3 protein

Background

SET and MYND domain-containing protein 3 (SMYD3) is a member of the SMYD family of histone methyltransferases that specifically methylates lysine 4 of histone H3 (H3K4), inducing di- and tri-methylation, but not monomethylation. SMYD3 plays an important role in transcriptional activation as a member of an RNA polymerase complex. It has also been shown to bind DNA containing 5'-CCCTCC-3' or 5'-GAGGGG-3' sequences. SMYD3 expression has been shown to be upregulated in certain cancers.
for Recombinant SMYD3 protein

Application Notes

Recombinant SMYD3 is suitable for use in the study of enzyme kinetics, inhibitor screening, and selectivity profiling.

HMT Assay Conditions: 30 ng/µl MAP3K2 peptide was incubated with 30 ng/µl recombinant SMYD3 protein in reaction buffer including 50 mM TrisCl, pH 8.6, 0.02% Triton X-100, 2 mM MgCl2, 1 mM TCEP, 9 nCi/µl 3H-SAM for 2 hours at room temperature. Activity was detected by fluorography.
for Recombinant SMYD3 protein

Protein Details

Recombinant SMYD3 (accession number NP_001161212.1) was expressed in Sf9 cells and contains an N-terminal FLAG-Tag with an observed molecular weight of 50.7 kDa. The recombinant protein is >95% pure by SDS-PAGE.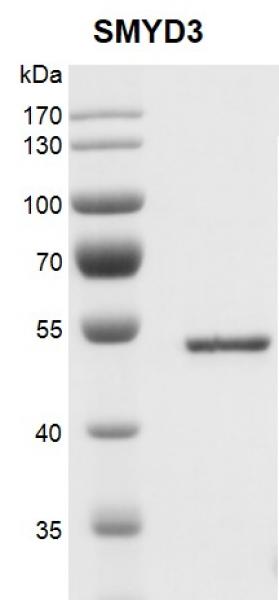 for Recombinant SMYD3 protein

Storage

Recombinant proteins in solution are temperature sensitive and must be stored at -80°C to prevent degradation. Avoid repeated freeze/thaw cycles and keep on ice when not in storage.
for Recombinant SMYD3 protein

Guarantee

This product is guaranteed for 6 months from date of receipt.

This product is for research use only and is not for use in diagnostic procedures.