Recombinant Proteins & Enzymes

»
»
Recombinant LSD1 / KDM1A protein
Recombinant LSD1 / KDM1A protein
Aliases: Lysine Demethylase 1A, Flavin-Containing Amine Oxidase Domain-Containing Protein 2, Lysine-Specific Histone Demethylase 1
| | | | |
| --- | --- | --- | --- |
| Catalog No: 31426 | Format: 20 µg | $410 | Buy |
| Catalog No: 31826 | Format: 1 mg | $3,500 | Buy |
Expressed In:
Baculovirus
Protein Species:
Human
Request a quote for a bulk order
---
Contents
Full length recombinant KDM1A / LSD1 protein was expressed in Sf9 cells and is supplied in 25 mM Hepes pH 7.5, 300 mM NaCl, 10% Glycerol, 0.04% Triton X-100, and 0.5 mM TCEP. Please refer to product insert upon arrival for lot-specific concentration.
Background
LSD1 (Lysine-specific demethylase 1, also designated KDM1A) was identified as a subunit of different complexes (such as CTBP, CoREST, NuRD or BRAF35). LSD1 is involved in transcriptional repression of genes through the demethylation of Histone H3 monomethyl Lys4 and Histone H3 dimethyl Lys4, a methylation site associated with transcriptional activation. LSD1 is also involved in transcriptional activation through the demethylation of Histone H3 monomethyl Lys9 and Histone H3 dimethyl Lys9, a modification often associated with transcriptional repression. LSD1 is also able to demethylate Lys370me1 and Lys370me2 in the regulatory domain of the tumor suppressor p53. LSD1 is a flavin-dependent amine oxidase.
Application Notes
Recombinant LSD1 / KDM1A is suitable for use in the study of enzyme kinetics, inhibitor screening, and selectivity profiling.

MALDI-TOF for LSD1 / KDM1A protein activity
3 µM H3K4me2 (1-27aa) peptide was incubated with 5 nM and 15 nM of LSD1 / KDM1A protein in reaction buffer containing 50 mM Tris-HCl pH 8.0, 50 nM FAD for 1 hr at room temperature. Single H3K4me2 peptide was used as negative control. MALDI-TOF was used for detection.
Protein Details
Recombinant LSD1 / KDM1A (accession number NP_055828) was expressed in Sf9 cells and contains an N-terminal FLAG-Tag with an observed molecular weight of 110 kDa. The recombinant protein is >90% pure by SDS-PAGE.
References
This protein is described in the following references:
Lan F et al. (2007) Nature 448:718-722
Forneris F et al. (2007) J Biol Chem. 281:35289-35295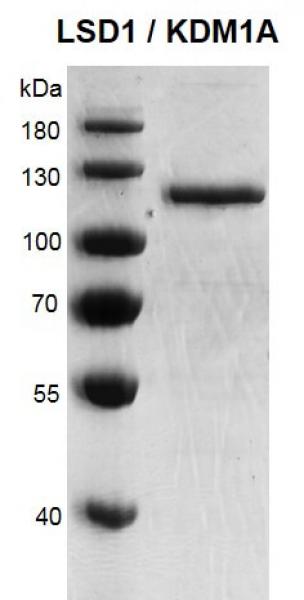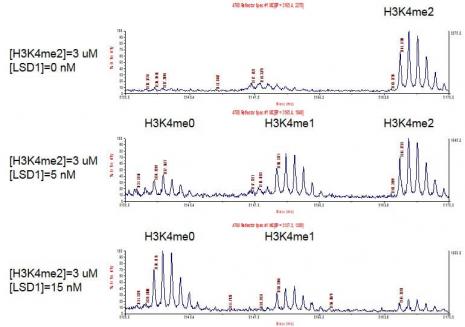 Storage
Recombinant proteins in solution are temperature sensitive and must be stored at -80°C to prevent degradation. Avoid repeated freeze/thaw cycles and keep on ice when not in storage.
Guarantee
This product is guaranteed for 6 months from date of receipt.

This product is for research use only and is not for use in diagnostic procedures.
Technical Data Sheet
Recombinant LSD1 / KDM1A protein
Data Thumbnails