Recombinant USP7 protein
Aliases: Ubiquitin Specific Peptidase 7, Ubiquitin Specific Peptidase 7 (Herpes Virus-Associated)
| | | | |
| --- | --- | --- | --- |
| Catalog No: 31525 | Format: 20 µg | $405 | Buy Now |
| Catalog No: 31925 | Format: 1 mg | $3,500 | Buy Now |
Expressed In:
Baculovirus
Protein Species:
Human
Request a quote for a bulk order
---
for Recombinant USP7 protein

Contents

Recombinant full length USP7 protein is supplied in 25 mM Tris-HCl pH 8.0, 300 mM NaCl, 5% glycerol, 0.04% Triton X-100. Please refer to product insert upon arrival for lot-specific concentration.
for Recombinant USP7 protein

Background

USP7 (Ubiquitin Specific Peptidase 7 (Herpes Virus-Associated)) belongs to the peptidase C19 family, which includes ubiquitinyl hydrolases. USP7 de-ubiquitinates target proteins such as FOXO4, p53/TP53, MDM2, UHRF1, PTEN and DAXX. Together with DAXX, USP7 prevents MDM2 self-ubiquitination and enhances the E3 ligase activity of MDM2 towards p53/TP53, thereby promoting p53/TP53 ubiquitination and proteasomal degradation. USP7 de-ubiquitinates p53/TP53, preventing degradation of p53/TP53, and enhances p53/TP53-dependent transcription regulation, cell growth repression and apoptosis. USP7 also de-ubiquitinates FOXO4 and inhibits FOXO4-induced transcriptional activity. Together with DAXX, USP7 is involved in the de-ubiquitination and translocation of PTEN from the nucleus to the cytoplasm, both processes that are counteracted by PML. USP7 de-ubiquitinates UHRF1, which prevents its degradation and promoting DNA methylation by DNMT1.
for Recombinant USP7 protein

Application Notes

This protein is useful for the study of enzyme kinetics, screening inhibitors, and selectivity profiling.
for Recombinant USP7 protein

Protein Details

Recombinant human USP7 was expressed in a baculovirus expression system as the full length protein (accession number NP_003461.2) with an N-terminal 6×His-Tag. The molecular weight of the protein is 131.3 kDa. The purity of USP7 protein is >80% by SDS-PAGE.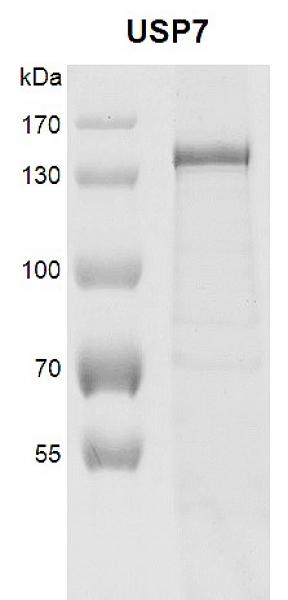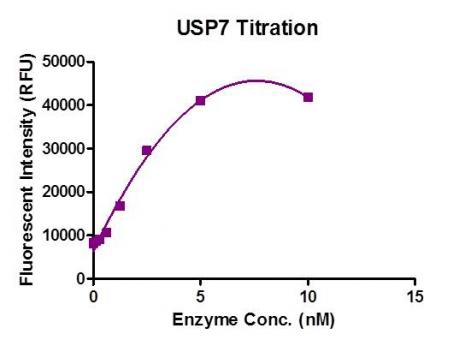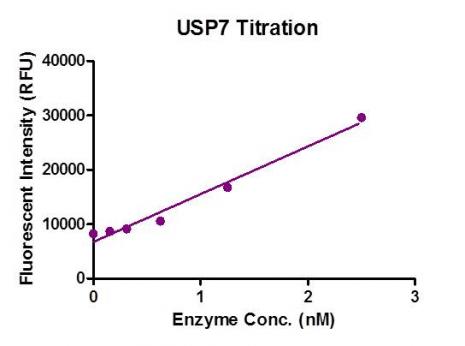 for Recombinant USP7 protein

Storage

Recombinant proteins in solution are temperature sensitive and must be stored at -80°C to prevent degradation. Avoid repeated freeze/thaw cycles and keep on ice when not in storage.
for Recombinant USP7 protein

Guarantee

This product is for research use only and is not for use in diagnostic procedures. This product is guaranteed for 6 months from date of arrival.