<< Back to Resources Home Page
Become a ChIP Assay Expert

Chromatin immunoprecipitation (ChIP) is a powerful method to study protein-DNA interactions and to investigate the locations of histone modifications across the genome.

But ChIP assays take time to master. It's also challenging to know which antibody will work best for your target protein and which protocol is best for your sample type. Active Motif can help!
We have been Enabling Epigenetics Research for over 20 years and we've developed many antibodies, kits, services, educational resources, and other tools to make it easier than ever for all researchers to start incorporating epigenetics experiments into their research and become ChIP assay experts!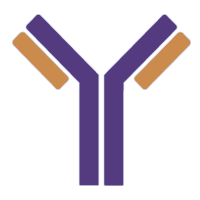 Start with the Best ChIP-Validated Antibodies
In your ChIP experiments, the quality of the antibody used to target your protein of interest is integral to the quality of your ChIP data. Not all antibodies are validated for ChIP applications, so it's important to find one that specifically recognizes your target and nothing else. You can optimize every other part of your ChIP procedure, but if your antibody isn't specific to your target, your data will be meaningless.

Active Motif offers hundreds of the highest quality ChIP-validated and ChIP-Seq-validated antibodies that allow researchers to generate sensitive and specific ChIP data that they can trust.

Unlike other companies, we manufacture and validate our antibodies in house, and therefore we can stand by the quality of our products in ways other companies can't. We know they will work because we've tested them ourselves.

Give our antibodies a try and start generating better ChIP data!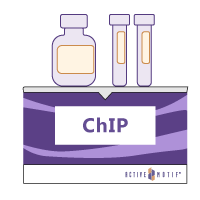 Use the Best ChIP Kit for Every Sample Type and ChIP Protocol
Every ChIP experiment is different. For example, certain sample types like PBMCs and FFPE tissue require specific protocols that are optimized for their unique challenges, and some ChIP assays require spike-in normalization to see the true differences between samples. That's why we've developed multiple different ChIP kits – so you can use the protocol that will work best for you to minimize the optimization time and focus on the data you'll generate.

Active Motif was the first company to launch a ChIP kit, well over a decade ago now, and we've been innovating ever since. We now have more than a dozen different ChIP kits, each specialized for different sample types or different experimental workflows

This quick ChIP kit selection guide makes it easy to know which kit fits your specific needs.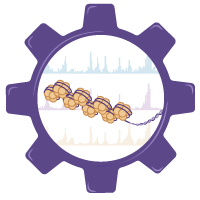 Let Us Generate the Best ChIP Data for You with Our End-to-End Epigenetic Services
Let our team of expert scientists and bioinformaticians help advance your research by generating the highest quality ChIP data possible. Many researchers have moved to outsourcing complicated experiments like ChIP to the epigenetics experts at Active Motif so they can spend their time focusing on answering the bigger picture questions, rather than learning and optimizing ChIP assays.

There's no alternative to experience. We have over a decade of experience offering ChIP services, have performed tens of thousands of ChIP assays, and our work has been published in hundreds of peer-reviewed scientific journal articles.

We have already optimized protocols for essentially every sample type and we've successfully performed ChIP for hundreds of proteins and histone modifications. If it can be done, we can do it. Contact us for more information or to request a quote.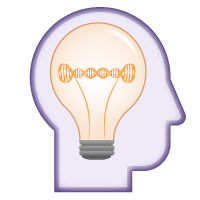 Knowing is Half the Battle! Learn More About Epigenetics & ChIP Assays
This free ChIP 101 eBook makes it easy to become a ChIP assay expert by covering the main steps in the ChIP workflow and giving pointers on how to achieve the best results. Download your copy of the ChIP 101 eBook today and take the next step to mastering ChIP assays and start generating high-quality ChIP data you can trust.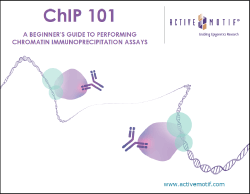 Topics covered include:
The 5 critical steps in every ChIP experiment
How many cells are needed for ChIP assays?
How to properly fix and prepare your samples for ChIP
How to sonicate and solubilize chromatin
The best type of antibody to use in ChIP assays
The best ways to analyze ChIP results
Want More Great Epigenetics Content? We've Got You Covered!