Recombinant ALKBH1 protein, FLAG-Tag
Aliases: AlkB Homolog 1, Histone H2A Dioxygenase
| | | | |
| --- | --- | --- | --- |
| Catalog No: 81308 | Format: 20 µg | $440 | Buy |
| Catalog No: 81608 | Format: 1 mg | $3,800 | Buy |
---
Expressed In:
Baculovirus
Protein Species:
Human
---
Contents
A representative Technical Data Sheet (TDS) is provided here. Please refer to the lot-specific TDS you will receive with your order for the lot-specific buffer contents and protein concentration.
Background
ALKBH1 (AlkB Homolog 2, Alpha-Ketoglutarate Dependent Dioxygenase) is a member of ALKBH protein family. It can repair alkylated DNA and RNA containing 1-methyladenine and 3-methylcytosine by oxidative demethylation. ALKBH1 can also repair alkylated DNA containing 1-ethenoadenine (in vitro) and has strong preference for double-stranded DNA. It can release modified bases from both DNA and RNA. This oxidative demethylation requires molecular oxygen, alpha-ketoglutarate and iron.
Application Notes
This product was manufactured as described in Protein Details. Where possible, Active Motif has developed functional or activity assays for recombinant proteins. Additional characterization such as enzyme kinetic activity assays, inhibitor screening or other biological activity assays may not have been performed for every product. All available data for a given product is shown on the lot-specific Technical Data Sheet.
Protein Details
Full length ALKBH1 protein (accession number NP_006011.2) was expressed in a baculovirus system with a C-terminal FLAG-Tag. The molecular weight of this protein is 45.5 kDa.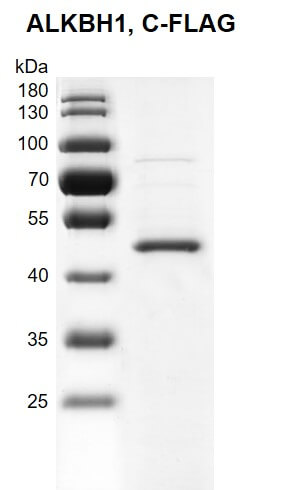 Storage
Recombinant proteins in solution are temperature sensitive and must be stored at -80°C to prevent degradation. Avoid repeated freeze/thaw cycles and keep on ice when not in storage.
Guarantee
This product is guaranteed for 6 months from date of arrival.
Technical Data Sheet
Recombinant ALKBH1 protein, FLAG-Tag
Data Thumbnails