THIS PRODUCT IS DISCONTINUED
Fast Activated Cell-based ELISA (FACE™) Kits provide a simple, sensitive method for detecting protein phosphorylation directly in the cell, without making extracts or performing electrophoresis and membrane blotting. These 96-well, high-throughput assays are available in both colorimetric and chemiluminescent formats for over 20 different targets (see list at right). For complete details, click the FACE™ Method tab below.
FACE Maker Kits provide all the optimized buffers of our target-specific FACE Kits, but they do not include antibodies. So, you are able to study any phosphorylated protein you want with your own antibodies while taking advantage of the optimized FACE method and the proven FACE reagents.
Name
Format
Cat No.
Price
FACE™ Maker
1 x 96 rxns
48000
Discontinued
5 x 96 rxns
48500
Discontinued
FACE™ Maker Chemi
1 x 96 rxns
48050
Discontinued
5 x 96 rxns
48550
Discontinued
The FACE™ Method
In FACE, cells are cultured in 96-well plates and stimulated to induce the pathway of interest. Following stimulation, the cells are fixed rapidly, which preserves activation-specific protein modifications. Each well is then incubated with a primary antibody specific for the activated protein of interest. Subsequent incubation with secondary HRP-conjugated antibody and developing solution provides a colorimetric or chemiluminescent readout that is quantitative and reproducible (Figure 1). The number of cells in each well can be normalized easily with the provided Crystal Violet solution. FACE Kits also contain primary antibody specific for the native inactive protein, so you can monitor both native and activated protein levels in the same experiment. FACE eliminates cellular extractions, radioactive kinase assays, time-consuming Westerns and inefficient epitope interactions that occur on membranes. FACE is a highly sensitive high-throughput assay designed for detecting activated proteins within mammalian cells.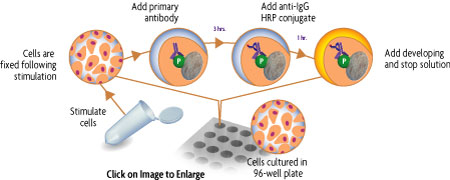 Choose your own antibodies with FACE Maker
FACE Maker Kits differ from other FACE Kits in that they do not include any antibodies. Instead, they provide all other components for running a FACE assay, enabling you to study any phospho-protein you choose. So, you must supply a phospho-specific antibody that detects only the phosphorylated form of your protein of interest. You may also run a parallel experiment with an antibody that recognizes the total protein of interest regardless of its modification state to compare the effects of treatment conditions versus a basal state. You will also need to supply species-appropriate HRP-conjugated secondary antibodies for simple detection.
Contents & Storage
Two (or ten) 96-well plates for culturing cells, Quenching Solution, 1X Antibody Blocking Buffer, 1X Antibody Dilution Buffer, 10X PBS, 10% Triton X-100, 1% SDS Solution, Developing and Stop Solutions, and Crystal Violet Cell Quantification Solution. Storage conditions vary from room temperature to -20°C, see manual for details. All reagents are guaranteed stable for 6 months when stored properly.