The FACE™ Product Line has been Discontinued
---
What are In-Cell ELISAs?
To assay the expression level of a protein, or the phosphorylation state of a signaling protein, Western blots are often employed, with phospho-specific antibodies used to specifically detect the phosphorylated states of the proteins in question. Such Western blots are reliable assays, but when screening large numbers of samples, a simpler approach is often required. ELISA assays are simpler in that electrophoresis is not required, but a standard ELISA still requires the preparation of a lysate, and attachment of a capture antibody to a plate. A far simpler method is to use In-Cell ELISAs, in which cells are grown in multi-well plates, fixed, and stained directly with the target antibody. The light emission from the well is then measured, and staining with an antibody to the protein in question is compared with staining with a phospho-specific antibody, to determine the relative amount of phospho-protein present in the sample, and inference of the activation state of signaling pathways from this information.
---
What is the FACE™ In-Cell ELISA?
Fast Activated Cell-based ELISA (FACE™ In-Cell Western) Kits provide a simple, sensitive method for detecting protein phosphorylation directly in the cell, without making extracts or performing electrophoresis and membrane blotting. These 96-well, high-throughput In-Cell ELISA assays are available in both colorimetric and chemiluminescent formats for over 20 different targets (see list at right). If you need an In-Cell ELISA Kit for a target that is not currently offered, you can use our FACE Maker In-Cell Western ELISA Kits to create your own FACE assays.
---
Why use FACE™ In-Cell Western ELISA Kits?
Simple, non-radioactive method that is easily quantified
Fixing preserves activation-specific protein modifications
Cell-based assay eliminates the need to make cell extracts
Minimal hands-on time – less than 3 hours
Two primary antibodies included to compare phosphorylated and native protein
Increased linear analysis range
Compatible with high-throughput automation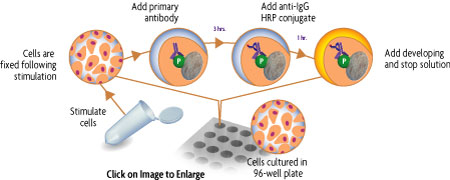 ---
Use of In-Cell ELISAs to study protein phosphorylation
Protein phosphorylation is the principal regulatory mechanism of cell signaling pathways, with protein kinases becoming activated by phosphorylation, then themselves phosphorylating nuclear targets, including transcription factors, and causing activation of those factors. Protein phosphorylation is most easily studied with phosphorylation state-specific antibodies, and has historically been studied by Western blot analysis, which is a reliable technique that detects the protein in question and also indicates the molecular weight of the target protein, as an additional control. But Western blot analysis requires electrophoresis and transfer, which adds to the workload, and makes it impractical for screening large numbers of samples. In-Cell ELISAs make it possible to screen large numbers of samples, but choice of antibody can be a complicating factor, if the antibody is not well-validated for the application at hand. Active Motif has done this work for you, with the FACE line of In-Cell ELISA assays, allowing you to focus on screening large numbers of samples without undue concern for methodology.
---
Advantages of In-Cell ELISAs over Western blots
Western blots are a powerful tool that detects the presence of a protein while confirming the size of the protein, in effect providing an additional control for protein identity. As such, Western blots will always have their place in experiments. However, by screening antibodies and running appropriate controls, it is possible to validate certain antibodies for in-cell ELISA assays, sometimes referred to as In-cell Westerns. This carries key advantages over conventional western blots, because now users can directly stain cultured cells in 96-well format, rather than requiring the creation of a cell lysate, and electrophoresis, transfer, and finally a blot. Large numbers of samples can thus be screened very quickly and easily by in-cell ELISA, and Active Motif has done the screening for you, delivering validated In-cell ELISAs to you, ready to use.