Apicidin
Aliases: Cyclo[(2S)-2-amino-8-oxodecanoyl-1-methoxy-L-tryptophyl-L-isoleucyl-(2R)-2-piperidinexcarbonyl]
| | | | |
| --- | --- | --- | --- |
| Catalog No: 14040 | Format: 5 mg | $280 | Buy |
| Catalog No: 14041 | Format: 1 mg | $80 | Buy |
---
Application: Histone Acetylation (HAT & HDAC)
Chemical Properties
MW = 623.8
C34H49N5O6
CAS 183506-66-3
≥98% (HPLC); NMR (Conforms)
Description
Cyclopeptide inhibitor of histone deacetylases (HDACs) (ref 1). Inhibits HeLa cell proliferation (IC50 = 50-100 nM) and induces reversible transcriptional activation of p21 (WAF1) (ref 2). Decreases HIF-1α protein levels and transcriptional activity in human and mouse tumor cell lines (ref 3). Cell permeable.
Contents
White solid. May be dissolved in DMSO (10 mg/ml).
Storage Conditions
Store desiccated as supplied at -20°C for up to 1 year. Store solutions at -20°C for up to 3 months.
References
1. SJ Darkin-Rattray et al. Proc. Natl. Acad. Sci. USA 1996, 93:13143
2. JW Han et al. Cancer Res. 2000, 60:6068
3. SH Kim et al. Oncol. Rep. 2007, 17:647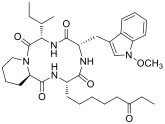 Technical Data Sheet
Apicidin
Data Thumbnails