Sirtinol
Aliases: 2-[(2-Hydroxynaphthalen-1-ylmethylene)amino]-N-(1-phenethyl)benzamide
| | | | |
| --- | --- | --- | --- |
| Catalog No: 14074 | Format: 25 mg | $370 | Buy |
| Catalog No: 14075 | Format: 5 mg | $115 | Buy |
---
Chemical Properties
MW = 394.5
C26H22N2O2
CAS 410536-97-9
>98% (TLC); NMR (Conforms)
Description
Selective sirtuin inhibitor which does not effect HDAC1 (IC50 = 131 M, 38 M and 68 M for SIRT1, SIRT2 and Sir2P respectively) (ref 1). Induces apoptotic and autophagic cell death in MCF-7 human breast cancer cell lines (ref 2). Suppresses survivin expression which correlates with decreased viability in HT-29 colon cancer cells (ref 3). Displays pro-inflammatory effects in adipocytes (ref 4).
Contents
Yellow powder. May be dissolved in DMSO (35 mg/ml); Ethanol (10 mg/ml).
Storage Conditions
Store desiccated as supplied at -20°C for up to 2 years. Store solutions at -20°C for up to 1 month.
References
1. CM Grosinger et al. J. Biol. Chem. 2001, 276:38837
2. J Wang et al. Int. J. Oncol. 2012, 41:1101
3. YF Hsu et al. Biochim. Biophys. Acta 2012, 1820:104
4. QQ Lin et al. Cytokine 2012, 60:447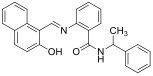 Technical Data Sheet
Sirtinol
Data Thumbnails