Recombinant Histone TH2B
Aliases: Testis-specific H2B, Th2B, Histone variant,
| | | | |
| --- | --- | --- | --- |
| Catalog No: 31577 | Format: 100 µg | $140 | Buy Now |
Expressed In:
E. coli
Protein Species:
Human
Request a quote for a bulk order
---
for Recombinant Histone TH2B

Contents

Recombinant Histone TH2B is supplied in 50 mM Tris pH 8.0, 150 mM NaCl, 5% glycerol. Please refer to product insert upon arrival for lot-specific concentration.
for Recombinant Histone TH2B

Background

TH2B (testis-specific H2B) is originally identified as a testis-specific variant of histone H2B. TH2A is a testis-specific variant of histone H2A. They are abundant in the testis, oocytes and fertilized eggs. TH2A and TH2B are controlled by a shared promoter that is located between them. Disruption of Th2a and Th2b genes causes defects in spermatogenesis. TH2A/TH2B may enhance reprogramming by introducing processes that normally operate in zygotes and during SCNT. TH2A and TH2B induce nucleosome instability. TH2B controls the chromatin-to-nucleoprotamine transition.
for Recombinant Histone TH2B

Application Notes

Recombinant histone TH2B is suitable for use as substrate for histone modification enzymes, or to generate chromatin in vitro.
for Recombinant Histone TH2B

Protein Details

Recombinant Histone TH2B (assession number: NP_733759.1) was expressed in E. coli cells as full length protein without any tag. The molecular weight of TH2B is about 14.2 kDa. The recombinant histone is >95% pure by SDS-PAGE.

Protein Sequence: PEVSSKGATI SKKGFKKAVV KTQKKEGKKR KRTRKESYSI YIYKVLKQVH PDTGISSKAM SIMNSFVTDI FERIASEASR LAHYSKRSTI SSREIQTAVR LLLPGELAKH AVSEGTKAVT KYTSSK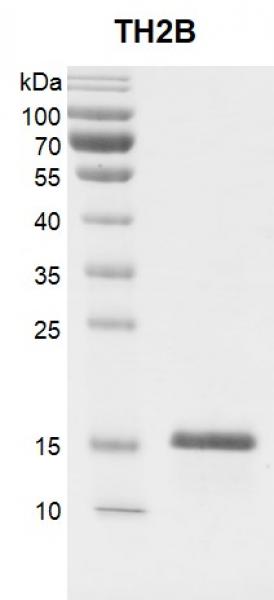 for Recombinant Histone TH2B

Storage

Recombinant proteins in solution are temperature sensitive and must be stored at -80°C to prevent degradation. Avoid repeated freeze/thaw cycles and keep on ice when not in storage.
for Recombinant Histone TH2B

Guarantee

This product is for research use only and is not for use in diagnostic procedures. This product is guaranteed for 6 months from date of arrival.