Cell, Acid & Tissue Extracts

»
»
MCF-7 nuclear extract
Contents
2 x 100 µg of MCF-7 nuclear extract at 2.5 µg/µl.
Background
MCF-7 nuclear extract was prepared from cell cultures of the human MCF-7 breast adenocarcinoma cancer cell line. The MCF-7 cell line was originally derived from a pleural effusion of a 69-year old Caucasian woman with metastatic breast cancer. MCF-7 cells are the best characterized and most commonly utilized cell lines in in vitro breast cancer studies. The MCF-7 cell line has retained several characteristics that are particular to mammary epithelium, including the ability to grow as a monolayer, form domes, and respond to hormones. These cells also display a low metastatic potential, leading to the assumption that they represent an early epithelial adenocarcinoma phenotype. These characteristics make MCF-7 cells an ideal model system to study malignant progression in relation to breast cancer.
Application Notes
MCF-7 nuclear extract is specifically recommended for studies related to breast cancer research.
Extract Origin
Human breast carcinoma
Extract Composition
MCF-7 nuclear extract is supplied in Dilution Buffer (20 mM Hepes (pH 7.9), 100 mM KCl, 1 mM MgCl2, 20% glycerol, 0.5 mM PMSF and 0.5 mM DTT).
Quality Control
Extracts have been quality control tested by Western blot and TransAM® Transcription Factor ELISAs.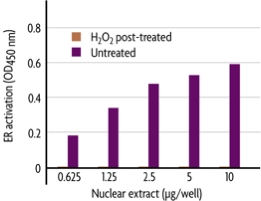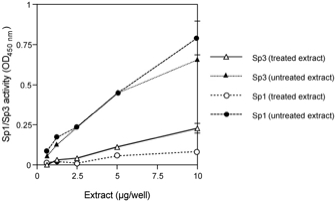 Storage
To ensure stability, extracts should be stored at -80°C.

We recommend aliquoting the extracts into single-use fractions and then storing them at -80°C. This eliminates repeated freeze/thaw cycles.
Guarantee
This product is guaranteed for 6 months from date of receipt.

This product is for research use only and is not for use in diagnostic procedures.
Technical Data Sheet
MCF-7 nuclear extract
Data Thumbnails