Cell, Acid & Tissue Extracts

Contents
2 x 100 µg of Raji nuclear extract at 2.5 µg/µl.
Background
Raji nuclear extract was prepared from cell cultures of the Raji Burkitt's Lymphoma cell line. This lymphoblastoid cell line was derived from a Nigerian patient with Burkitt's lymphoma and is the first continuous cell line of hematopoietic origin. These cells are most commonly used in studies related to hematology and related cancers, such as leukemia and lymphoma. Raji cells are a line of Epstein-Barr virus (EBV)-transformed lymphocytes and thus harbor latent EBV genomes and various chromosomal translocations, making them an ideal source for material for cytogenetic analysis. In addition, these cells express numerous surface Fc receptors and are routinely used for detection and analysis of immune complexes.
Application Notes
Raji nuclear extract is specifically recommended for studies related to 1) hematology, 2) leukemia and lymphoma, 3) cytogenetics, and 4) immunology.
Extract Origin
Human B Lymphoblast (Burkitt's)
Extract Composition
Raji nuclear extract is supplied in Dilution Buffer (20 mM Hepes (pH 7.9), 100 mM KCl, 1 mM MgCl2, 20% glycerol, 0.5 mM PMSF and 0.5 mM DTT).
Quality Control
Extracts have been quality control tested by Western blot and the Electrophoretic Mobility Shift Assay (EMSA).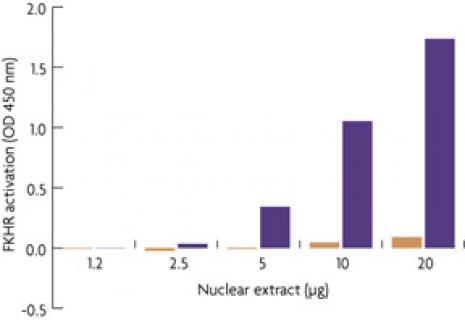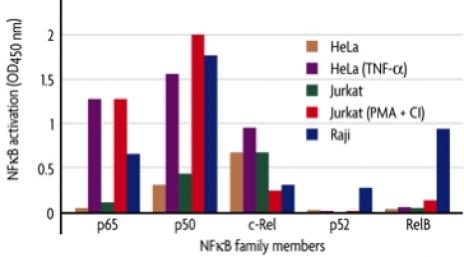 Storage
To ensure stability, extracts should be stored at -80°C.

We recommend aliquoting the extracts into single-use fractions and then storing them at -80°C. This eliminates repeated freeze/thaw cycles.
Guarantee
This product is guaranteed for 6 months from date of receipt.

This product is for research use only and is not for use in diagnostic procedures.
Technical Data Sheet
Raji nuclear extract
Data Thumbnails