Recombinant Sortase A5 protein
| | | | |
| --- | --- | --- | --- |
| Catalog No: 13100 | Format: 50 µg | $490 | Buy |
| Catalog No: 13101 | Format: 250 µg | $1,365 | Buy |
---
Expressed In:
E. coli
Protein Species:
S. aureus
---
Contents
A representative Technical Data Sheet (TDS) is provided here. Please refer to the lot-specific TDS you will receive with your order for the lot-specific buffer contents and protein concentration.
Background
Sortase belongs to a class of transpeptidases that utilize an active site cysteine thiol to modify proteins by recognizing and cleaving a carboxy-terminal sorting signal, LPXTG (where X is any amino acid), between the threonine and glycine residues. Sortase A5 is an engineered pentamutant variant of the wild-type sortase from Staphylococcus aureus that is significantly more active than the wild-type sortase. Sortase A5 site-specifically labels antibodies or proteins when the LPXTG recognition sequence is displayed. Easily attach a wide variety of labels such as peptides, DNA, carbohydrates or fluorophores containing a poly-Glycine sequence (Gly)n (where n = 3 or more Glycine residues). Sortase A5 Pentamutant is covered by US patent number 9,267,127.
Application Notes
Sortase A5 recognizes an antibody or protein genetically engineered to contain the LPXTG motif (where X is any amino acid). Sortase A5 cleaves this sequence between the threonine and glycine residues and the terminal glycine is then replaced with any poly-Glycine (G)n label. Sortase A5 is used in Active Motif's Sortag-IT™ Labeling Kits to attach HRP, biotin, fluorophores and other labels directly to Active Motif's AbFlex™ recombinant antibodies (rAb). The activity of both wild type and Sortase A5 pentamutant proteins are Ca2+ dependent, therefore, Active Motif's Sortag-IT labeling buffers and reagents are formulated to contain Ca2+ for optimal protein labeling. In addition, our AbFlex recombinant antibodies are provided in HEPES buffer, which is does not bind Ca2+ and will not interfere with the Sortase A5 enzymatic activity.
Protein Details
Recombinant Sortase A5 protein (S. aureaus, Uniprot A0A077UNB8-1), containing amino acid substitutions P94R, D160N, D165A, K190E and K196T, was expressed in E. coli and includes a C-terminal 6xHis Tag. The molecular weight of the protein is 17.8 kDa.

Protein Sequence: MQAKPQIPKDKSKVAGYIEIPDADIKEPVYPGPATREQLNRGVSFA EENESLDDQNISIAGHTFIDRPNYQFTNLKAAKKGSMVYFKVGNETRKYKMTSIRNVKPT
AVGVLDEQKGKDKQLTLITCDDYNEETGVWETRKIFVATEVKLEHHHHHH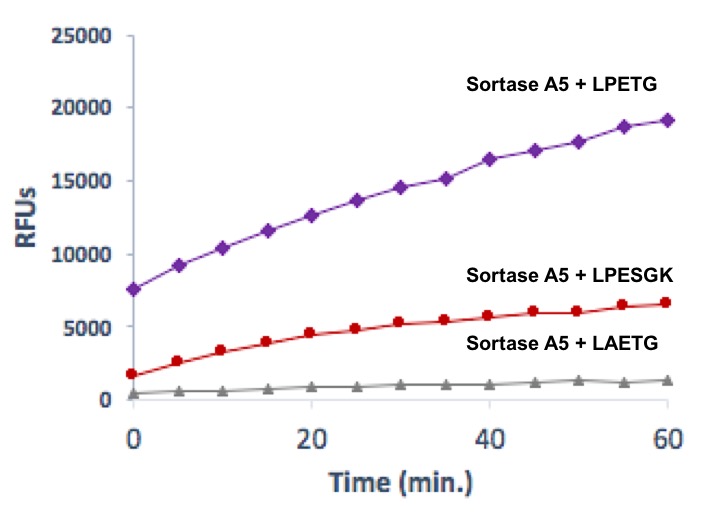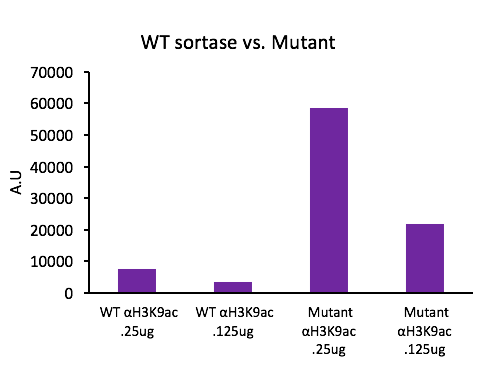 Storage
Store at -80°C to prevent degradation and avoid repeated freeze/thaw cycles. This product is guaranteed for 6 months from date of arrival.
Technical Data Sheet
Recombinant Sortase A5 protein
Data Thumbnails