---
Expressed In:
E. coli
Protein Species:
S. aureus
---
Contents
A representative Technical Data Sheet (TDS) is provided here. Please refer to the lot-specific TDS you will receive with your order for the lot-specific buffer contents and protein concentration.
Background
Sortase belongs to a class of transpeptidases that utilize an active site cysteine thiol to modify proteins by recognizing and cleaving a carboxy-terminal sorting signal, LPXTG (where X is any amino acid), between the threonine and glycine residues. Sortase 2A.9 is an engineered variant of the wild-type sortase from Staphylococcus aureus that is significantly more active than the wild-type sortase for site-specific labeling of antibodies or proteins containing an LAXTG recognition sequence (where X is any amino acid). Easily attach a wide variety of labels such as peptides, DNA, carbohydrates or fluorophores containing a poly-Glycine sequence (Gly)n (where n = 3 or more Glycine residues). Sortase 2A.9 is covered by US Patent No. 10,202,593.
Application Notes
Sortase 2A.9 recognizes an antibody or protein genetically engineered to contain the LAXTG motif, where X is any amino acid. Sortase 2A.9 cleaves this sequence between the threonine and glycine residues and the terminal glycine is then replaced with any poly-Glycine (G)n label to attach HRP, biotin, fluorophores and other labels. Sortase A2.9 may be used in a variety of labeling applications and conditions. Some suggested buffers for use are as follows:

Reaction Buffer: 300 mM Tris-HCl, 150 mM NaCl, 5 mM CaCl2, pH 7.5
Stop Solution: 500 mM EGTA, pH 8.0.
Protein Details
Recombinant Sortase 2A.9 protein containing the following amino acid substitutions relative to Sortase A5 pentamutant (S. aureaus, Uniprot A0A077UNB8-1): S102C, A104H, E105D, K138P, K152I, N160K,  K162H, T164N, K173E, I182V, T196S. The protein was expressed in E. coli and includes a C-terminal 6xHis Tag.


Protein Sequence: MQAKPQIPKDKSKVAGYIEIPDADIKEPVYPGPATREQLNRGVCFHDENESLDDQNISIAGHT
FIDRPNYQFTNLKAAKPGSMVYFKVGNETRIYKMTSIRKVHPNAVEVLDEQEGKDKQLTLVTC
DDYNEETGVWESRKIFVATEVKGSHHHHHH

The protein has a calculated molecular weight of 17.8 kDa and an observed molecular weight of approximately 20 kDa.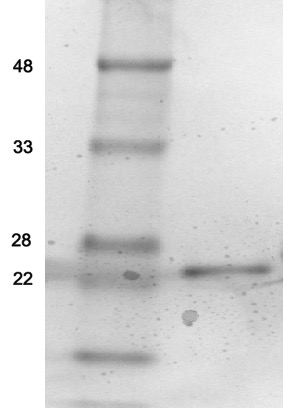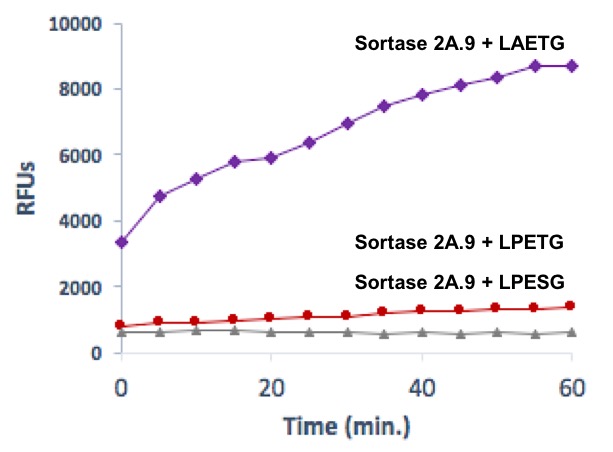 Storage
Recombinant proteins in solution are temperature sensitive and must be stored at -80°C to prevent degradation. Avoid repeated freeze/thaw cycles and keep on ice when not in storage.
Technical Data Sheet
Recombinant Sortase (2A.9) protein
Data Thumbnails